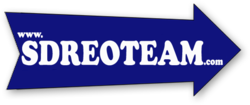 With 20 years of experience, we have earned the respect and loyalty of our customers, colleagues, and industry leaders
San Diego, CA. (PRWEB) May 24, 2011
According to Regina Ong Garcia, the HISPANIC chamber of commerce brings together more than just business owners and vendors, the event also drew in industry leaders, politicians, and community organizers from around the greater San Diego area who were able to discuss the myriad of issues affecting the mortgage default industry and the economy in general.
The event showcased a broad base of business ventures, all optimistically hopeful about the economic outlook going forward. Entrepreneurs eager to capitalize on the recent downturn filled the aisles with tables showcasing money and time saving products and services. Vendors from across the county are working together to improvethe economy with a focus on innovative ways to enhance business exposure anddraw new money into the region.
"With minority communities having been hit the hardest, itis more essential than ever to eliminate language and cultural barriers to getthe real estate market back on track. The San Diego REO team recognizes the unique contributions that only local minority owned businesses can make in working to resolve thereal estate lending and foreclosure crisis," said CEO, Regina Ong Garcia. "Attending the Hispanic Chamber of Commerce meetings is an excellent networking opportunity that we encouraged all businesses looking to improve the economic outlook of the communities they serve to attend."
The default services business comprises a multitude ofdisciplines and a wide variety of activities that are essential to the goal of handling the glut of foreclosed properties negatively impacting the entire U.S.economy. Minorities are playing a huge part in this business and are seeking abetter platform to lead and share their ideas for solving the crisis.
The federal government has placed a renewed emphasis on finding qualified service providers who are minorities. One of the mainpurposes for San Diego REO Team is to attract the attention of business sources, such as REO asset managers, with corporate or government-owned portfolios enabling them to connect with the qualified minorities they need to assist with liquidating bank, government and investorowned assets.
For more information about San Diego REO Team you can call 619-800-0314 or visit their web site at http://www.sdreoteam.com.
San Diego REO Team is a minority owned Real Estate Company, Services Includes: REO/BPO Interior or Exterior, Drive-by Reports Re-Keying, Occupancy Checks Preservation, Cash for keys services Lawn repair & maintenance, Monthly Reports, Trashouts, Marketing, Total or partial reconstruction, Total or partial refurbishing, Investors ready to purchase Licensed, Bonded & Insured, Attorneys and Closing Managers.
To know more about the hispanic chamber of commerce. goto their website at http://www.hiscec.com/en/Detail/San_Diego_REO_Team
# # #