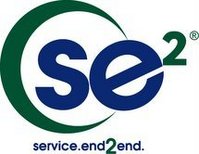 Business Appreciation Month is our way of thanking great Kansas businesses like se² for all they do to keep our state strong.
Topeka, KS (PRWEB) August 5, 2009
The Kansas Department of Commerce has named Topeka- based se² as a 'Business Appreciation Month' Merit Award winner. The award comes as part of the Department's annual celebration of Kansas businesses and their contributions to their communities and the state economy.
Nominated by the Greater Topeka Chamber of Commerce, se² received the June Business Appreciation Month award in the Service category.
se² provides business technology and processing solutions for the life and annuity industry and the retirement planning sector with its award-winning state-of-the-art technology platform and an astute understanding of the insurance industry including regulatory compliance issues unique and specific to the financial services industry.
"We take pride in providing exceptional service to our client's customers," said se² Chief Operations Officer, Frank Rosa. "We know that every customer service experience is critically important to preserving our reputation as a recognized leader in this industry. We stand behind our promises and we consider ourselves to be an essential extension of our clients' staff."
se²'s clients are some of the most distinguished and largest organizations in the industry. Approximately one million policy holders and one million contract holders, financial planners and distributors benefit from se²'s award-winning technology and robust administrative services every day.
"se²'s life and annuity acumen, coupled with our dedicated processing capabilities, place us at the forefront of the business processing outsourcing industry," Rosa said. "We are honored to be recognized in this fashion, and we are eager to continue contributing to the foundation of the Kansas economy and the quality of life of its communities."
se² together with its parent company, Security Benefit, historically has supported educational institutions in the state of Kansas, classroom mentoring opportunities for Junior Achievement classrooms, and has served as sponsor for the Kansas Teacher of the Year award.
Through its parent, more than half a million dollars is allocated annually to community volunteer agencies to aid social service needs, including a myriad of educational programs to serve at-risk students and families.
"Kansas businesses are the backbone of our economy and our quality of life," said Kansas Department of Commerce Secretary David D. Kerr. "Business Appreciation Month is our way of thanking great Kansas businesses like se² for all they do to keep our state strong."
In addition to this most recent honor bestowed upon se² by the Kansas Department of Commerce, se² was selected as the Computerworld Honors award winner in the category of Finance, Insurance and Real Estate for its development of 403(b)connect. se² was also was named as one of the hottest insurance technology companies in 2009 by Forrester Research Group.
Recent se² news:
se2 Releases Next Generation 403(b)connect
About se² -- se² is a subsidiary of Security Benefit Corporation, one of the most highly-regarded companies in the financial services and retirement planning industry. Leveraging an award-winning technology platform and decades of life and annuity experience, se² provides low-cost, high-quality service administration and distribution support services.
###