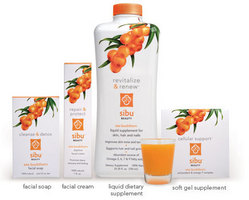 Sibu Beauty combines the latest research with the time-tested power of sea buckthorn to deliver an all-natural skin care system that will make your skin stronger, healthier and more radiant
Salt Lake City, UT (PRWEB) October 21, 2009
Sibu LLC, "The Sea Buckthorn Company", has announced that it is offering acne and rosacea sufferers a limited, 14 day free trial of its acne and rosacea skin care products. Acne and rosacea affect millions of people globally; rosacea affects an estimated 45 million people worldwide, including 14 million people in the United States alone, while cases of acne affect 60 million people in the United States, all of whom are battling active acne. But now, there is a new ally in the fight against these pervasive skin issues…the sea buckthorn berry, the Himalayan secret to acne and rosacea-free skin.
Sibu Beauty has harnessed the power of this tiny, orange berry to sooth redness and inflammation, restore healthy sebum oil production, reduce dead skin cells and bacterial growth, and fight-off blackheads, whiteheads, papules and pustules. Rather than the latest chemical cocktail concocted in a lab, Sibu Beauty relies on the 1300 year old healing power of the sea buckthorn berry, which has been carefully harvested 12,000 feet above sea-level in the towering Himalayas. The Sibu Beauty acne treatment provides a natural alternative to the chemical creams usually used to fight acne and rosacea, and is packed with nutrients, antioxidants and Omega fatty acids that have been linked to clearer, softer, and healthier skin.
Sea buckthorn berries are super-charged with more than 190 bioactive nutrients, antioxidants, and the fatty acids, Omega 3, 6, 9 and the elusive Omega-7, that combine to make acne and rosacea sufferers more comfortable in their own skin. The sea buckthorn berry provides them with 12 times more Vitamin C than oranges, 7 times more Vitamin E than almonds and 2 times the amount of Omega-7 than that of a macadamia nut. Christine Garrett, a satisfied Sibu Beauty customer, testifies to the benefits of Sibu Beauty's rosacea treatment, "I love these products…I have very sensitive skin and most cleansers are too harsh and drying… After having used the products for a couple months now, my pores are smaller and I have less break outs."
Sibu Beauty offers acne and rosacea sufferers healthier skin in two ways - from the inside and from the outside. Sibu Beauty's great-tasting Revitalize & Renew Liquid Supplement and Cellular Support Soft Gels work together to strengthen and heal the skin from the inside. On the outside, the Cleanse & Detox Facial Soap cleans and revitalizes the skin, while the Repair & Protect Facial Cream, super-charged with Omega-7, helps to boost collagen production, moisturizes, and rejuvenates.
"Sibu Beauty combines the latest research with the time-tested power of sea buckthorn to deliver an all-natural skin care system that will make your skin stronger, healthier and more radiant," said Bruce McMullin, founder of Sibu Beauty. "While laboratories are always coming up with new medications that often do more harm than good, Sibu Beauty heals the skin from the outside and strengthens the skin from the inside."
Take advantage of Sibu Beauty's 14 Day FREE Trial to experience the benefits of one of the world's oldest, most powerful, super-fruits, the sea buckthorn berry.
About Sibu Beauty
Sibu Beauty was introduced in early 2009 to provide customers worldwide with a comprehensive approach to beauty from the inside and outside. The Sibu Beauty product line is based on a powerful and distinctive whole food source, the sea buckthorn berry. This super food is backed by hundreds of scientific studies demonstrating its success at addressing a variety of consumer needs including improved skin tone and texture, healthy aging and digestive health and noticeable improvements in cardiovascular fitness, energy and weight loss.
About Sibu, LLC
The products of Sibu Beauty, a subsidiary of Sibu LLC, "The Sea Buckthorn Company" - are made with only premium sea buckthorn berries exclusively grown and harvested for the company in the Himalayan Mountains of Tibet. The company's meticulous harvesting process results in a more hardy and potent berry. Sibu's proprietary manufacturing process maximizes the efficacy of sea buckthorn raws, producing one of the most nutrient-dense sea buckthorn products available on the market today.
The Tibetan villagers who are responsible for harvesting Sibu Beauty's sea buckthorn berries benefit from a fair trade agreement, safe and healthy working conditions, and environmentally-responsible practices that ensure they will enjoy the benefits of the sea buckthorn harvest for years to come.
*These statements have not been evaluated by the Food and Drug Administration. These products are not intended to diagnose, cure or prevent disease.
# # #