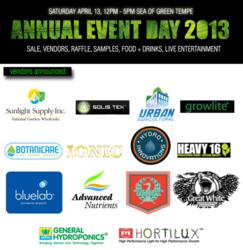 Phoenix, Arizona (PRWEB) April 11, 2013
It's that time of year for Sea of Green Hydrogardens to give back to its customers with great deals and a great time. This Saturday April 13 from 12pm to 5pm, at the Phoenix location, there will be a special Sea of Green event with discounts, food, entertainment, and more.
The Sea of Green Customer Appreciation means quality green for less green. There will be discounts on many name brand items, and giveaway goodies and samples just for showing up and being a customer. There will also be live entertainment, raffle prizes, and food and drink for all who come to enjoy. Plus, customers will have the chance for some invaluable face time and Q & A with many of Sea of Green's top vendors like Botanicare, Solis Tek, Hydro Innovations, and more.
Be sure to follow the future newsletters as the event begins to unfold for a super coupon that can only be used on the day of the event.
For information please visit Sea of Green's Website, and be sure to come to the Sea of Green Customer Appreciation Day, Saturday April 13 from 12pm to 5pm.
Sea of Green Hydrogardens
2340 W. Bell Rd., 116
Phoenix, AZ 85023
602-504-8842
About Sea Of Green:
Sea of Green offers hydroponics, indoor gardening and outdoor gardening products and tips. From nutrients to garden tools to books, Sea of Green is your one-stop-shop for all of your growing needs! Sea of Green sells hundreds of products to enhance your produce. Check out the growing blog to find the latest technology.