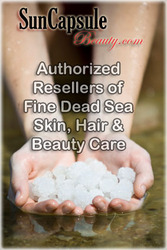 This will give our customers an even greater selection when choosing a luxurious skin care line fortified with Dead Sea Minerals
Albany, NY (PRWEB) September 25, 2009
SunCapsuleBeauty.com announces that they are now offering their customers the top brand dead sea skin care line Seacret. "We are excited that we have reached an online partnership with Seacret to sell their fabulous products to our customers" a SunCapsuleBeauty.com spokesperson states. "This will give our customers an even greater selection when choosing a luxurious skin care line fortified with Dead Sea Minerals".
Seacret Spa's complete line of Dead Sea Mineral Skin Care includes products such as Body Scrubs, Body Butters & Lotions, Nail Care Products, Mineral & Mud Soaps, Mens After Shave Balm as well as an entire Anti Aging line up including Facial Creams, Serums and Masks. The products are fortified with Dead Sea Minerals, Vitamins and Exotic Oils to produce exceptional results not seen in standard skin care products.
So what's so special about the Dead Sea? Well its high concentration of minerals are exactly what your skin craves. The Dead Sea is exposed to the lowest point on the earth's crust and its water is in direct contact with large mineral deposits. The mineral content in the water is so high that your body actually becomes buoyant and will float effortlessly in the sea - you can view many photos of people floating in the dead sea with no flotation device simply relaxing while reading a magazine or newspaper.
Minerals such as magnesium, potassium, calcium and bromine (and many more) are in high concentration in the dead sea. These unique mineral combinations are harvested and refined for use in cosmetics products such as anti-aging treatments, skin and hair care.
Common uses of dead sea minerals are to relieve skin aliments such as psoriasis and eczema as well as arthritis and aching joints. Many people love to soak in a dead sea salt bath and find that not only does it give them luscious supple skin but it relieves the pain and tension associated with Rheumatoid Arthritis. There are also many scented salts available from various manufacturers to aide in the sensual process of relaxation.
Along with other top brands such as Premier Dead Sea, Vivo Per Lei and Swisa Beauty SunCapsuleBeauty has built its reputation for selling quality skin care authorized by the manufacturer. "Remember to always purchase from an authorized source to insure your product is authentic and of the highest quality" emphasizes the staff at SunCapsuleBeauty. You never know the quality you're going to receive from an unauthorized store or eBay seller. The product could be old, outdated, fraudulent or even used. What you put on your skin is extremely important and we make every effort to insure the quality of the products our customers receive.
SunCapsuleBeauty.com is a high end cosmetics and skin care reseller. For more information please visit http://www.suncapsulebeauty.com.
# # #