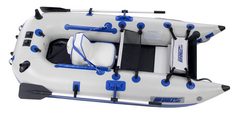 ...the 285fpb is the perfect blend of performance and practicality.
Port Jefferson, NY (PRWEB) April 8, 2010
Sea Eagle Boats, Inc. has just unveiled an upgraded version of its 285 Frameless Pontoon fishing boat (285 fpb). The newest model improves upon the original 285fpb by increasing its rowing efficiency, durability, as well as offering a series of convenient extras.
The 285fpb—which will ship starting April 10th—is the second generation model of the world's first frameless pontoon boat. Like its predecessor, the 285fpb is the perfect blend of performance and practicality. Weighing just 42 pounds, the 285fpb fits easily in the trunk of a subcompact car, and takes just 4 minutes to assemble. Whether traveling to remote ponds or large lakes, this one man fishing machine allows access to secluded fishing spots, where larger boats simply cannot go.
One of the major upgrades for the 285fpb is a set of higher oarlocks which allow for better rowing position when using the swivel seat. Additionally, the inflatable pontoons allow for quiet and more efficient travel, as well as other advantages over typical fishing crafts. While conventional hulls sit completely in the water, pontoons sit high, creating both very shallow drafts and very little hull. As a result, the 285fpb is extremely maneuverable, whether using oars or a small electric motor. The shallow draft also means you can fish in just a few inches of water without hitting bottom.
The new 285 Frameless Pontoon Boat joins Sea Eagle's line of existing boats, including the famous Sea Eagle Foldcat. The 285fp is 9' long by 4' wide, creating an extremely wide and stable casting platform. Additionally, the new 285fpb is compatible with a slew of new optional accessories such as a stern stow bags, and stripping apron with fish ruler and a wooden floorboard for stand-up casting. Suggested retail of Sea Eagle 285fpb with oars, pump, inflatable seat & nylon carry bag starts at only $549. A package including all accessories as well as a small electric motor is just $878.
Since 1968, Sea Eagle has sold inflatable boats and kayaks of its own design. An emphasis on superior materials and high quality accessories make Sea Eagle boats great for fishing, camping exploring, and many other outdoor activities. Today, Sea Eagle's lineup is wider than ever, including 7 models of different inflatable kayaks, 3 models of pontoon fishing boats, a sailing catamaran, motormount boats and transom boats taking up to 40 HP engines. For more information, visit http://www.seaeagle.com
Dealer/Export Inquiries are invited.
###