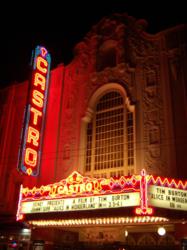 Catch is a strong supporter of the arts and the theater community
San Francisco, CA (Vocus/PRWEB) April 19, 2011
As film aficionados from all over the planet converge on the City for the San Francisco International Film Festival, Jewish Film Festival, and Frameline (LGBT) Film Festival, Catch is ready to take them in.
The San Francisco seafood restaurant is conveniently located just a block from Castro Theatre. Its covered patio is also like a theater where diners can watch a parade of Castro denizens and visitors march past the restaurant slightly obscured by a screen of clear plastic sheets that separate the patio from the pavement. In the evening, the street comes alive with colorful lights.
The brick walls, strung sunflower lights lighted bar, glass waterfalls that oscillate between magenta and lavender set an artistic tone, ideal for debating film plots, direction, and performances.
For being such a stylish restaurant, the attire is surprisingly informal—even casual, with diners sporting cowboy hats, baseball caps, open shirts, and jeans galore.
"Catch is a strong supporter of the arts and the theater community," said Sanjay Gujral, owner of Catch Seafood Restaurant.
The [San Francisco International Film Festival - April 21 to May 5, 2011.
Founded in 1957, the San Francisco International Film Festival is the longest-running film festival in the Americas. Held each spring for two weeks, the International is an extraordinary showcase of cinematic discovery and innovation in the country's most beautiful city, featuring some 150 films and live events with more than 100 filmmakers in attendance and nearly two dozen awards presented for cinematic excellence. The Festival attracts an annual audience of more than 80,000.
Highly anticipated by its loyal and passionate audiences, championed by civic and community leaders, admired and adored by filmmakers and closely watched by industry professionals, SFIFF is one of the most important events in the Bay Area's cultural calendar and an important stop on the international festival circuit.
The San Francisco Jewish Film Festival - July 21 to August 8, 2011
Founded in 1980, the San Francisco Jewish Film Festival is the first and largest of its kind in the world.
Although they show films year-round, their hallmark program is a renowned three-week summer Festival, screening in four Bay Area venues, featuring the highest quality Jewish films from around the world. As the first of more than 100 Jewish film festivals worldwide—and still the largest, with some 30,000 attendees—SFJFF is an influential showcase bringing together filmmakers and audiences to celebrate Jewish cinema and explore its new frontiers.
Frameline: The San Francisco International LGBT Film Festival - June 16 to 26, 2011
Founded in 1977, the San Francisco International LGBT Film Festival is the longest-running, largest and most widely recognized LGBT film exhibition event in the world. As a community event with an annual attendance of 60,000, the Festival is the most prominent and well-attended LGBT arts program in the Bay Area. Frameline also presents year-round exhibitions, including Frameline at The Center, a free film series highlighting diverse, socially relevant works. Year-round programs also include members-only sneak previews and special events, as well as special screenings and events featuring directors, actors and other queer media icons.
For more information about Catch Seafood Restaurant call (415) 992-5735, view them on the web at http://www.catchrestaurant-sf.com, or visit them at 2362 Market Street between Castro and 16th Streets in San Francisco.
About Catch Seafood Restaurant
Catch Seafood Restaurant San Francisco, located in the historic Castro District, specializes in sustainably-harvested seafood, steaks and chops prepared in classic tradition with modern flair. In addition to fine food, guests can enjoy a great local micro-brewed beer, a glass of wine or a special drink from Catch's full-service bar that boasts an extensive selection of artfully prepared seasonal cocktails and signature favorites.
###