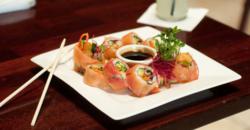 The consumer is always asking for what's green and sustainable.
San Francisco, CA (Vocus/PRWEB) April 20, 2011
In the historic Castro District brick building that first housed the NAMES Project Foundation and the AIDS Memorial Quilt, the spirit of preservation continues. Before Catch Seafood Restaurant's executive chef Jerimias Guerra puts any of his culinary innovations on the menu, it has to be on the Monterey Bay Aqauarium WATCH® program's menu.
"The consumer is always asking for what's green and sustainable, and the Monterey Bay Aquarium's WATCH program provides both restaurateurs and consumers information needed to make responsible decisions," said Sanjay Gujral, owner of Catch Seafood Restaurant. "The Aquarium has also done a fantastic job making the list clear cut and easily accessible."
Seafood is rated in one of four categories: Super Green, Best Choices, Good Alternatives, and Avoid. The Super Green list contains wild and farmed seafood that's healthy for people and the oceans. Best Choices seafood is abundant, well-managed and caught or farmed in environmentally friendly ways.
Seafood items rated as Good Alternatives are an option, but there are concerns with how they're caught or farmed-or with the health of their habitat due to other human impacts. Items on the Avoid list should not be used at all, as they are caught or farmed in ways that harm other marine life or the environment.
"We work with a vendor who also subscribes to the same philosophy," said Gujral. "They source from producers who fish using single lines—not long lines, don't use traps, and farm sustainably."
The Monterey Seafood WATCH® is a scientifically based, peer reviewed program designed to help ensure a bounty of seafood for this and future generations, support environmentally responsible fishing and fish farming, increase the demand for ocean friendly seafood, and lower demand for species that are in peril so that they may recover.
For more information about Catch Seafood Restaurant's support of the Monterey Seafood WATCH® recommendations or to make reservations call (415) 992-5735, view them on the web at http://www.catchrestaurant-sf.com, or visit the restaurant at 2362 Market Street between Castro and 16th Streets in San Francisco.
About Catch Seafood Restaurant
Catch Seafood Restaurant San Francisco, located in the historic Castro District, specializes in sustainably-harvested seafood, steaks and chops prepared in classic tradition with modern flair. In addition to fine food, guests can enjoy a great local microbrewed beer, a glass of wine or a special drink from Catch's full-service bar that boasts an extensive selection of artfully prepared seasonal cocktails and signature favorites.
###