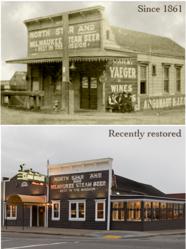 San Francisco, CA (PRWEB) October 06, 2011
The Old Clam House San Francisco's oldest restaurant serves fresh seafood and spirits in the same location since 1861. This year, it is proud to announce its 150th anniversary as well as its recent restoration, including the completely renovated glass enclosed patio.
This warm and friendly San Francisco seafood restaurant offers traditional American classics, with a focus on fresh seafood in addition to a wide variety of sandwiches, salads and pasta. Specialties include Dungeness crab and prime rib. It also offers a lovely brunch on Saturdays and Sundays, and provides banquet menus for large parties and other events. Remove--catering services for banquet parties and other events.
A local restaurant that is well-known and well-respected by the San Francisco community, The Old Clam House possesses a rich history. Since opening in 1861, it has survived many city transformations, including the San Francisco earthquake and the fire of 1906. To this day, the restaurant's bar area maintains its original structure.
The Old Clam House is open from 11 a.m. to 10 p.m. daily for lunch and dinner. For more information about the best restaurant in San Francisco, call (415) 263-9127, visit their website at http://www.theoldclamhousesf.com, or simply drop by their charming location at 299 Bayshore Blvd. in San Francisco.
About The Old Clam House
The Old Clam House first opened its doors as the Oakdale Bar & Clam House, the same year that Lincoln was inaugurated as President of the United States and San Francisco was blossoming as a city. When the San Francisco famous restaurant opened in this atmosphere of young America, it was constructed on what was then the waterfront to the south of Islais Creek, just below Bernal Heights. The restaurant at one time was connected to downtown San Francisco by an estimated two miles of plank road. It quickly became a gathering place for the waterfront workers and neighbors settling in the area during an era when the Bay Area boasted a thriving fishing industry.
###