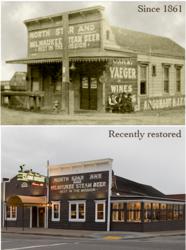 Today, the bar area consists of the original structure, making it San Francisco's oldest restaurant in the same location since 1861. This is a fact we cherish
San Francisco, CA (PRWEB) November 18, 2011
The Old Clam House a San Francisco famous restaurant will be open for Thanksgiving and they invite guests to join them for their holiday feast. They are offering a Prix Fix Turkey Dinner, including cranberry sauce, potatoes, stuffing and a slice of pumpkin pie, all for $29.95.
Steeped in the tradition of Old San Francisco, The Old Clam House has been serving quality, fresh seafood and spirits from the same location since 1861. It has survived many city transformations, including the San Francisco Earthquake and Fire of 1906. Throughout its history, the local restaurant has often been described as the best restaurant for seafood in the Bay Area.
Their newly revamped menu still features the same fresh seafood that makes each dish shine. They serve hot Dungeness crab prepared with their secret garlic sauce, delicious pasta dishes made from the freshest clams, crab and shrimp around. A taste of their garlic bread, calamari, or clam chowder will reveal how quality ingredients really make a difference. Their fully stocked bar serves cocktail drink and wine to complement their amazing dishes.
"Today, the bar area consists of the original structure, making it San Francisco's oldest restaurant in the same location since 1861. This is a fact we cherish," says Jen Dal Bozzo, owner of The Old Clam House.
Beginning the weekend after Thanksgiving, the restaurant will be fully decorated and all geared up for the Christmas season. A banquet menu is available for large dinner parties.
For more information, contact The Old Clam House at (415) 263-9127 or visit them online at http://www.theoldclamhousesf.com. The Old Clam House is located at 299 Bayshore Blvd. San Francisco, CA 94124.
About The Old Clam House
The Old Clam House is a historic San Francisco seafood restaurant. Opened in 1861, The Old Clam House has the distinction of being the oldest restaurant in San Francisco still operating at its original location. Their menu features a broad selection of fresh seafood prepared in different ways.
###