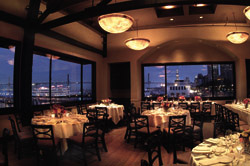 Mother's Day brunch is an annual tradition for millions of families. The great food and views at the Waterfront make the special day extraordinary.
San Francisco, CA (Vocus/PRWEB) May 04, 2011
Everyone is invited to celebrate Mother's Day brunch at The Waterfront Restaurant, the fashionable San Francisco landmark that commands the best street level views of the Bay Bridge, Coit Tower, and the Transamerica Pyramid. This year the restaurant has developed a unique menu that includes filet of beef hash, a shellfish omelet, and a Maine lobster sandwich. Owner Al Falchi says there is something for everyone on the menu.
"Mother's Day brunch is an annual tradition for millions of families," said Falchi. "The great food and views at the Waterfront make the special day extraordinary."
Mother's Day brunch will be served on May 8 from 10 am-3 pm, with dinner immediately following until 9 pm. The Waterfront's Mother's Day menu includes:
APPETIZERS, SALADS, AND SOUPS

Soup of the Day
Four Baked Oysters
Dungeness Crab Cakes, Lemon aioli
Grilled Pancetta Wrapped Prawns, Arugula
Monterey Bay Fried Calamari, Rock shrimp, fennel and spicy arugula
Locally Farmed Mixed Green Salad, Dijon tarragon vinaigrette
Lobster Macaroni and Cheese, Black truffle
Wild Mushroom Risotto, Truffle Spuma
EGG DISHES

Filet of Beef Hash, Bell peppers, onions and cage free poached eggs
French Toast, Fresh strawberries, raspberries, blueberries and Chantilly cream
Shellfish Omelet, Maine lobster, Dungeness crab, vegetables and hollandaise
Dungeness Crab Hash, Cage-free poached eggs and hollandaise
SIGNATURE ENTREES

Seafood Cobb Salad, Dungeness crab meat, prawns, avocado, boiled eggs, cherry tomatoes, scallions, and Myer lemon vinaigrette
Dungeness Crab Sandwich, On grilled acme sourdough bread
Maine Lobster Sandwich, Avocado, tomatoes and bacon on toasted brioche
Seafood Pasta, Handmade garlic and lemon linguini, lobster, rock shrimp, mussels, Dungeness crab and clams with a white wine lemon garlic broth
Pan Seared Wild Alaskan Halibut, Mashed potatoes and mushroom leak broth
Grilled Hawaiian Escolar, Crab mashed potatoes, seasonal vegetables and nage
"SRF" American Wagyu Flat Iron Steak, Seasonal vegetables, mashed potatoes and demi-glace
Pan Seared Jr. Rocky Chicken, Caramelized leek and thyme jus
KIDS MENU

Buttered Pasta
Chicken Strips and Fries
Fish and Chips
For more information about the Mother's Day brunch and dinner at The Waterfront Restaurant, call them at (415) 391-2696, view them on the web at http://www.waterfrontsf.com, or visit the restaurant located at Embarcadero Pier 7 at Broadway in San Francisco.
About The Waterfront Restaurant
The Waterfront Restaurant is a San Francisco seafood restaurant that specializes in seafood, fine dining and private parties. In 1969, Al Falchi converted the former San Francisco longshoremen's bar into a restaurant called The Waterfront. With its breathtaking views and convenint location, it soon became a favorite of local politicians, business people, and local and foreign visitors.
In 1997 the restaurant was underwent a multi-million dollar renovation to transform—not just brick and mortar changes—everything was improved, including its seafood menu. Today, The Waterfront is the choice of presidents and princes, celebrities and travelers, who want to make their San Francisco dining experience a memorable one.
###