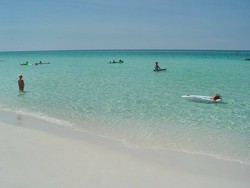 We decided in January we couldn't afford it
Seagrove Beach, FL (PRWEB) September 24, 2009
With the sluggish economy effecting reservations on the Gulf Coast, Garrett Realty Services has decided to come up with their own "Stimulus Package" by offering unprecedented discounts to vacationers willing to visit South Walton County in the Fall season.
Out of work since December, Nancy Lee Brown quickly realized a 14-year family tradition at the beach would have to come to an end in 2009.
"We decided in January we couldn't afford it," Brown said of her now one-income household.
Then Brown heard back from rental agent, Marie Garrett. There are deals to be made in South Walton County along Scenic 30-A, located in the Panhandle of Northwest Florida. "It was like Christmas," Brown, 53, of Marietta Ga., said. "I was in a state of shock."
According to USA Today, beach rental agents describe a reservation pattern with their South Walton beach rentals that reflects "…a jittery nation." People who traditionally book for the summer during the first of the year balked as the near-collapse of the financial markets emerged into public view. Since then, reservations picked up as tax refunds began to trickle in, then slowed. Some blame a cooler, wetter spring, and hoped vacation commitments to increase once the weather warmed.
Advantages
If travelers are looking to avoid large crowds, packed attractions and expensive lodging, they should check out Florida vacations during one of the Sunshine State's off-seasons.
There are two major tourist seasons in Florida. The first runs from mid-September through Easter with the influx of the winter sun-seeking "snow birds." The second begins in late May as families with school-age children begin arriving for summer vacations, and continues through mid-August when the kids head back to school.
Fall and Winter Seasons
The "OFF" season offers - but doesn't guarantee - blue skies, warm sunshine, and low humidity. Tourists have gone home and traffic is less. Fall and winter are a perfect time to take advantage of lower published rates for Florida vacations along the Beautiful Beaches of South Walton.
Summer Season
The "summer season" - from June through mid-August - offers less comfort from the weather, but that doesn't seem to hold back the crowds. Stifling near-tropical heat and humidity, coupled with terrific, although brief, afternoon thunderstorms does dictate early day sightseeing. Beginning in September, however, the intensity of the sun and humidity decreases enough to enjoy sightseeing anytime during the day. Be warned that Florida's hurricane season lasts from June to November. Although there's not much of a chance that one of the huge tropical storms will occur, if it does, there is plenty of warning and evacuation routes are well marked throughout the coastal areas of the state.
Advice
To find the best bargains on South Walton beach rentals, call the agency directly. Sometimes vacationers can get a better rate over the phone than is indicated in a brochure or on the internet, especially in this recession.
Mindful of the shaky economy, many are doing just that. "We are getting vacationers who are looking for a bargain, or a discount, or needing something other than a seven-night stay," said Garrett of Garrett Realty Services, which manages over 300 properties nestled in the pristine white dunes of Seagrove Beach on the Gulf of Mexico. She's had to concede: Reservations have been off by 10 percent.
"Homeowners right now are more willing to offer rate reductions and specials than they would have in the past. This year has really been a consumer's market," Garrett states. But, it won't last long.
Locals are hoping the economic slump will tell a different story in the spring of 2010 after the new Panama City-Bay County International Airport opens for business. Construction is currently about three and one half months ahead of schedule. The original goal was to open the new airport in May 2010.
Don't give up! Looking for Florida vacations during its "off-seasons" can be rewarding this year- fewer people and lower prices. It all depends on taking "off" at the right time and asking for that better rate. For those who have never experienced the beauty of Northwest Florida or are ready to come back for another visit, this is the best time of the year to take advantage of South Walton beach rentals.
About Garrett Realty Services:
Garrett Realty Services, Inc. was established in April 1987 by real estate brokers Marie Garrett and Julia Arthur. With over fifty years of combined experience, Garrett Realty Services, Inc. has become a trusted and respected name in vacation rental management, association management, and real estate sales along the Emerald Coast of Northwest Florida. The corporate office and primary front desk is located in the heart of Seagrove Beach at Seagrove Plaza and manage over 300 properties between Seaside, Rosemary Beach and Inlet Beach.
# # #