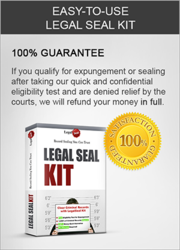 Trying to figure out how to seal your records alone isn't always easy
Pompano, FLA (PRWEB) June 17, 2013
Those who have made a mistake in the past may find that it is following them into their future. Having even one smudge on a background check can lead to having a tough time finding employment or even finding a place to live. This has kept many individuals from getting ahead in life, but expungement may be the solution for some people. "There are several obstacles that can arise through the process of expunging your record, but ultimately, the results are worth it" said Senior Marketing Manager David Lovell. What lawyers in cities across the nation charge hundreds or even thousands of dollars for, LegalSeal.org has packaged into an easy "do-it-yourself kit" for a fraction of the cost. These kits have been assembled by legal professionals who are well versed in every state's requirements for expungement and sealing. This is not to assume that every case can absolutely be expunged without legal counsel. For this reason, the founders of LegalSeal have implemented a free expungement eligibility test right on their website to quickly asses a person's eligibility for sealing or expunging a record before they make any commitments. If a person's case results as eligible, the nest step is to simply choose the state the crime was committed (and tried) in to view the details of the expungement kit in that state.
"If you are looking to clear your record, there are several steps you will need to follow but it all begins the same: collecting all of the documentation needed that is associated to your court case." stated Broward Clerk of Courts assistant Angela P. In every state this is true although some may require a step or two before an individual gets to collecting their case information. Additionally, those are not the only packets of paper work needed as there can be several forms to fill out before anything can be submitted to the courts. Some may also need to go to a police station and get fingerprinted prior to petitioning to clear their records. Each state has laws on the types of records that are eligible to be removed, so that adds another level of difficulty to the expungement process.
Ultimately, every step can be a little confusing including which states allow expungement, which allow sealing, and which consider both one in the same. Between all of the paperwork, waiting and stress, some may even give up all together. But there are options out there. Each state provides general guidance on their record removal process. As may be expected from government resources, the instructions are generally a little confusing. Expungement lawyers, despite the cost, take every step on behalf of their clients and, although the results are not guaranteed, even just the chance at having a clean record may be worth the investment. For those who chose to do it on their own, the expunge and seal kit from LegalSeal can be the difference between success and failure. Additionally, with the 100% Money-back Guarantee, individuals interested in purchasing the kit have little to lose.
"Trying to figure out how to clear your record alone isn't always easy. There are many things to consider, and trying to properly follow each state's instructions can be confusing." co-founder Jeremy Brooks stated. When it comes down to deciding if expungement is the solution to trouble with finding a job, for example, it really turns into a decision of lawyer or no lawyer. If taking on legal counsel is decided, then individuals can save themselves a lot of stress. On the other hand, if a person chooses to navigate the sealing and expungement process on their own, LegalSeal's expunge kit is sure to save both stressful days and money.
About LegalSeal
LegalSeal.org is an online resource for expungement and record sealing with expungement kits available for every state in the country. LegalSeal is a subsidiary of DIY Smart Consumer Inc.