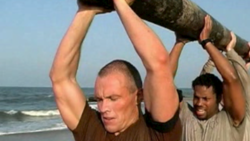 Total Mind and Body Challenge
Virginia Beach, VA (PRWEB) November 06, 2012
SEAL training is without a doubt the toughest military training in the world. SEAL Training Adventures was the first pre-BUD/s civilian military prep course started over 14 years ago and starting within the week will offer online SEAL training. Navy SEALs go through some of the most demanding fitness programs to achieve peek physical fitness and now you can learn their secrets.
SEAL Training Adventures (STA) has always offered its famous SEAL Adventure Challenge and Special Ops Academy. The SEAL Adventure Challenge is the original BUD/s preparation course started in 1998 by SEAL team 6 Chief Warrant Officer, Don Mann, (CWO III). This 24-hour Physical Training, PT for short, challenge provides recruits with a taste of the standard of mental and physical conditioning necessary for success at Spec Ops schools. For those looking for a more intense challenge STA offers the Special Ops Academy an intense 8-day program designed for civilians and military alike.
Now STA will offer an online SEAL workout fitness program where members can receive workout and nutrition plans as well as coaching advice from Navy SEALs. These programs are designed to challenge a push an individuals fitness levels while shedding body fat and building a body to the standards of a Navy SEAL. STA's training programs are well suited from the weekend warrior to the professional athlete and are designed for men and women alike.
STA has also started blogging about some of the most asked topics both on SEAL Training Adventure programs as well as in the Special Ops field. It is a great resource for an individual looking to go into a Special Ops career to see what it takes and how to overcome some of the fitness challenges that are really more mental than physical. Former Navy SEALs are the predominant authors of these blog articles and also share their experience in how SEAL training has influenced their business careers.
With the additions of online SEAL training and a dedicated blog curated by Navy SEALs, STA is quickly becoming the leading resource in civilian SEAL training. Check out what they have to offer and see if you can handle the challenges of a Navy SEAL!