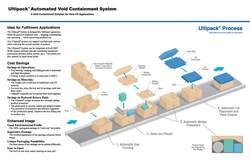 At Sealed Air, we are committed to providing cost-effective, efficient and sustainable packaging solutions.
La Grange, IL (PRWEB) April 19, 2010
Sealed Air, leading manufacturer of innovative and versatile packaging solutions, including food packaging, shrink packaging and packaging automation systems, will be exhibiting at the 2010 North American Handling & Logistics Show (NA 2010). The show will be held at the I-X Center in Cleveland on April 26 to April 29, and Sealed Air plans to feature two of its packaging automation systems, the I-Pack® and the Ultipack®, at Booth #1204.
"The Sealed Air Automation team is excited to be exhibiting at NA 2010, where industry leaders can see the benefits of our advanced packaging automation systems firsthand. Discussing solutions, strategies and ideas with other packaging professionals is crucial to building a more productive and profitable business in a constantly evolving industry, and we look forward to sharing and learning at NA 2010," said Don Liebel, Business Engineer for Sealed Air Automation.
Sealed Air's I-Pack® and Ultipack® systems are cost-effective, fully integrated solutions designed to automate the secondary packaging processes of tray forming, product containment and lidding. Introduced to the U.S. market in 2008, the two systems are ideal for high volume pick and pack operations involving items such as books, DVDs, cosmetics, pharmaceuticals and industrial supplies.
Similarities between the I-Pack® and the Ultipack® include the use of durable tray forming and lidding modules, which are designed for reliable use around the clock. The two systems differ in their protection and containment approaches: The I-Pack's "void elimination" module compresses the package into a lower profile shipping unit, while Ultipack's "void containment" module automatically inserts a flexible corrugated wedge for additional protection.
"Sealed Air's advanced packaging automation systems, I-Pack® and Ultipack®, are reliable and versatile - easily integrated with all ERP/WMS system software and warehouse equipment, as well as customizable for specific requirements regarding size, protection, styles and other factors. At Sealed Air, we are committed to providing cost-effective, efficient and sustainable packaging solutions that meet any material handling needs," said Liebel.
About Sealed Air Corporation: For fifty years, Sealed Air has been a leading global innovator and manufacturer of a wide range of packaging and performance-based materials and equipment systems that now serve an array of food, industrial, medical, and consumer applications. Operating in 51 countries, Sealed Air's international reach generated revenue of $4.2 billion in 2009. With widely recognized brands such as Bubble Wrap(R) brand cushioning, Jiffy(R) protective mailers, Instapak(R) foam-in-place systems and Cryovac(R) packaging technology, Sealed Air continues to identify new trends, foster new markets, and deliver innovative solutions to its customers. For more information about Sealed Air, please visit the company's website at http://www.sealedair.com.
About NA 2010: In April 2010, tens of thousands of material handling and logistics buyers from more than 60 countries will meet at the 2010 North American Material Handling and Logistics Show (NA 2010) at Cleveland's I-X Center. They will come to see, touch and operate the solutions of over 500 of the top material handling and logistics providers. The 150,000 square foot show floor will feature manufacturing, warehousing, distribution, assembly, logistics and IT solutions for the supply chain.
If you are looking for solutions to make your supply chain work more productively and profitably, register today for NA 2010.
Show Hours:
April 26 - 29, 2010
Monday:
10:00 am - 5:00 pm
Tuesday:
10:00 am - 5:00 pm
Wednesday:
10:00 am - 5:00 pm
Thursday:
10:00 am - 3:00 pm
###