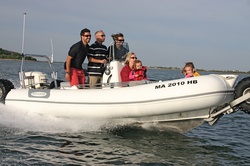 I'm thrilled to introduce North America to the most convenient and reliable boating experience available
Boston, MA (PRWEB) June 9, 2010
Sealegs, the world's leading manufacturer of amphibious boats, today launches the first-ever recreational model of its high-performance, amphibious military marine craft in North America. Originally developed for military clients ranging from India's Anti-Terrorism Unit to the Malaysian Commando Unit, Sealegs was built with technology designed for rapid response from beach to water, under the harshest conditions, in the most remote locations. The result – Sealegs is now available in a 6.1 and 7.1 meter RIB recreation model that exceeds speeds of 40 MPH and combines turnkey land to ocean convenience with the ultimate guarantee in reliability.
Translation: boaters can hit the open waters anytime, from any coastal terrain (mud, deep sand, or rock) and simply go from driveway to waterway in just minutes. Navigate tidal flats, explore hidden beaches or spend the day island hopping. Simply stated, with Sealegs boat on your terms, wherever you want, whenever you want.
"I'm thrilled to introduce North America to the most convenient and reliable boating experience available," said Jon Hoflich, vice president, Sealegs. "Sealegs offers the ultimate freedom in boating by providing a no hassle, incredibly convenient combination of land and ocean capabilities. It truly is all the fun of boating without the hassle of docking or tying up."
New Sealegs owner Jim Bicknelll from Duxbury, MA claimed that in the past he had to plan his boating not only around his own personal time, but when the tides allowed for him to take the boat out, while also accounting for dock time and boat prep time. Jim continued by stating that, "Now with Sealegs, I don't have to plan, worry or time anything around the tides. I've used my Sealegs more in the past month than I used my other boat all of last year."
Military Inspired Technology: Extended Run Time, All Wheel Drive and Ultimate Reliability
Many of Sealegs' technologies were developed to improve military search and rescue operations, coastal defense missions or rapid beach to water deployment. For example, during flood rescue operations it is critical to have a vessel that can navigate changing water depths and run through fallen trees or near collapsed homes.
Introducing Extended Run Time –uninterrupted, continuous boat operation through hazardous debris. Recreation boaters benefit by running longer on land to water access, driving limitlessly on beaches or enjoying all-day island hopping across most any terrain.
The All Wheel Drive (AWD) system was born out of The Australian State of Emergency Services' need to quickly deploy in water via variable coastline terrain. AWD adds an additional wheel motor to the front wheel to increase traction and significantly increase terrain capability. Boaters can run up inclines of soft sand, shells, shingles, pebbles, deep mud, and rough rocky shores at the push of a button.
Lastly, Sealegs offers Ultimate Reliability. A vessel used to save lives in extreme, rough sea conditions must guarantee strength and durability. The one-piece hull design is virtually unbreakable and all components from wiring, to circuitry to outer coating are geared for salt water protection. This proprietary build and design make Sealegs one of the safest, most reliable boats for families in North America.
How Sealegs Works:
The Sealegs system is comprised with a set of powerful motorized, aircraft-type retractable wheels that are fitted to the aluminum hulled boat. The wheel system enables easy transitions from land to water and vice versa, that allows all passengers to stay dry during transition periods – a convenient alternative for disembarking when formal docking facilities or supporting infrastructures are not available. Individuals can
single-handedly launch from riverbanks, estuaries, beaches and lakefronts.
In addition, the inclusion of an on-board 24hp Honda engine driving the hydraulic power pack provides the craft with a variable land speed of 0-6 mph (in both forward and reverse directions), which creates a fully integrated, turnkey amphibious platform package. Sealegs allows for easy in and out water access, reducing launch time drastically.
Additional Features Include:

Top Speeds: up to 48 mph in water and 6 mph on land
Two rear marinized hydraulic wheel motors with stainless steel hubs – front wheel motorized with All-Wheel Drive option
Land powered by 4-stroke twin cylinder air-cooled 24hp Honda in-board engine (mounted under center seat) electronic ignition, electric start
Marinized hydraulic cylinders raise and lower wheels
Center console seating
Bow sprit and anchor locker
Navigation lights
Hulls are constructed of marine grade aluminum capable of withstanding challenging waters and debris-strewn environments
Rigid inflatable tubes are made from Hypalon which has enhanced resistance to oil, chemicals, weather and damaging UV rays and the robust all-aluminum D-Tube is built all-around tough for the most demanding situations
Rigid inflatable and all-aluminum pontoon designs give highly stable, buoyant, safe working platforms on the water
For additional information on Sealegs please visit http://www.Sealegs.com.
Retail Price

6.1 meter without outboard: $69,900
6.1 meter fully equipped with 115 HP outboard: $90,000
7.1 meter without outboard: $89,900
7.1 meter fully equipped with 150 HP outboard: $115,000
About Sealegs
Sealegs is a registered trademark of Sealegs International Limited. The Sealegs amphibious boat design is a registered design. The Sealegs system has registered patents in its major markets and has other international patents pending.
###