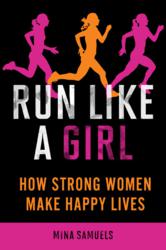 Why postpone life? Commit now to getting active. Now meaning—today. Here are 5 reasons to start now.
Berkeley, CA (PRWEB) May 30, 2011
From improved self-confidence to added health benefits, it's a well-known fact that sports can have positive impact on women's lives. To help spread the word, Mina Samuels, author of the new Seal Press book, Run Like a Girl: How Strong Women Make Happy Lives, is offering a list of five reasons to get off the couch and get active.
In Run Like a Girl, Samuels—who actively participates in triathlons, marathons, biking, cross-country skiing, yoga, rock climbing, and more—introduces readers to women who've discovered unexpected benefits from participating in sports, and openly discusses how sports positively changed her life as well. The stories in Run Like A Girl prove that physical strength lends itself to psychological strength, that lessons learned on the field (or track, or slopes) can help us face challenges in other areas—and that for many women, participating in sports translates into leading happier, more fulfilling lives.
To encourage a more active lifestyle, and help readers reach their own personal best, Mina Samuels is offering the following list of reasons to get active today:
1. Live in the present, not the future. Tomorrow can all too easily become tomorrow again…and again. Why do tomorrow what you can do today? Be now what you planned to be another day.
2. Why postpone life? Commit now to getting active. Now meaning—today.
3. Every time we take action in one area of our lives, there's a ripple effect. By getting active today, what other good things might happen tomorrow? Show yourself what you can do today, and tomorrow you'll have another opportunity to surprise yourself.
4. Start today and enjoy the benefits of getting active soonest—more energy, a stronger and healthier body, and a more peaceful sleep.
5. Why not?
Samuels is so passionate about teaching the benefits of an active lifestyle that she has committed to donating 50 percent of her book royalties earned this week to Girls on the Run, a Charlotte, NC-based non-profit whose mission is to encourage preteen girls to develop self-respect and healthy lifestyles through running. To purchase a copy of Run Like a Girl, visit a local bookstore or online book retailer.
About Seal Press
Seal Press was founded in 1976 to provide a forum for women writers and feminist issues. Since then, Seal has published groundbreaking books that represent the diverse voices and interests of women—their lives, literature, and concerns. Seal's authors are radical and original thinkers, professionals with a distinct point of view, gutsy explorers, truth-tellers, and writers who engender laughter, tears, and rage. Seal Press publishes books with the goal of informing women's lives. Based in Berkeley, Calif., Seal is a member of the Perseus Books Group. To learn more, visit the Seal Press website.
# # #