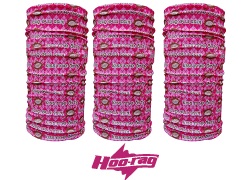 Jupiter, FL (PRWEB) July 10, 2012
Hoo-Rag has teamed up with Wasatch Area Race Productions by designing a custom promotional seamless bandana for its Kiss Me Dirty Race Series. Women of all ages (minimum requirement: 10-year-old) look to take place in this all-female mud run – the goal is to get as dirty as possible.
The custom Kiss Me Dirty Hoo Rag is perfect for protecting a racers face, neck and ears from the blistering summer heat while trampling through a mud-filled obstacle course. Ladies who wish to keep mud from ruining a perfect hair-do may also use the custom HooRag as a ponytail holder.
"We are extremely honored to be a part of the Kiss Me Dirty Race Series and we hope that all of the ladies enjoy the custom HooRag that we have designed for this special event" says owner Doug Sapusek.
Ladies partaking in the Kiss Me Dirty Race Series will have the option to purchase the custom Hoo-Rag on the day of the race. Below is the complete list of the mud-filled madness that women all across the country can look forward to participating in:
July 28, 2012 – Colorado Horse Park (Denver, CO)
August 25, 2012 – Salt Lake Co. Events Center (Salt Lake City, UT)
September 22, 2012 – Portland Intl. Raceway (Portland, OR)
October 13, 2012 – Santa Clara Fairgrounds (San Jose, CA)
November 10, 2012 – Lake Skinner Rec. Area (Temecula, CA)
February 16, 2013 – National Shooting Complex (San Antonio, TX)
March 17, 2013 – Pima County Fairgrounds (Tucson, AZ)
June 29, 2013 – Golden Spike Fairgrounds (Ogden, UT)
The Kiss Me Dirty Race Series is just an example of how HooRag's "Better Bandana" can be used as a great way to promote local and nationwide events.
About Hoo-Rag
HooRag.com was officially launched in 2012 and offers their "better bandana" to men, women and children of all ages. Since its inception, HooRag has been creating custom bandanas for events all across the United States and Canada.
For more information, please visit http://www.hoorag.com or call 888.831.9344. You can also email info(at)hoorag(dot)com for additional information.
About Kiss Me Dirty
Kiss Me Dirty is a 5K female-only mud obstacle course run designed for women of all athletic abilities, with a portion of proceeds benefiting gynecological cancer research. So whether you bring him along to watch YOU wallow in the slop for a while, or you leave him home to take out the trash and cut the grass, you and your best gal pal's will certainly come away with some good honest dirty fun.
For more information, please visit http://www.kissmedirty.com or call 866.875.6457. You can also email info(at)wasatchracing(dot)com for additional information.