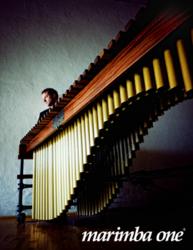 "Just like a fine piano, we place felt between every contact point." -- Ron Samuels, Owner, Marimba One
Arcata, CA (PRWEB) April 10, 2012
At custom-marimba maker Marimba One, in the redwoods of Northern California,craftsman Greg carefully places seamless felt sleeves on rail jacks secured to the solid wood frame of a marimba.
The marimba is similar to a large xylophone, with keys made of Honduras rosewood renowned for its tonal quality. Under the keys are large tubes -- the resonators-- which give the instrument its deep, powerful sound. The metal has the potential to cause a rattle -- a no-no for marimbists.
"It's all about making the best instrument possible for the musician," says Marimba One owner Ron Samuels. While some other makers place felt only at some contact points, Samuels is adamant about the importance of felt to ensure pure sound. "We place felt between every contact point, just like on a fine piano," he says. Indeed, Marimba One uses more than 50 linear feet of felt on every marimba.
This includes the new seamless felt sleeves that Greg places on the rail jacks. Because the felt is seamless, it never falls apart. That is a relief to musicians whose nightmare is for something to go wrong with the instrument when they're about to go on stage. They want to be able to focuse on their performance, not on the mechanics of the instrument.
"We're always improving our instruments and finding new ways to give musicians the sound they want," explains Samuels.
About Marimba One
Marima One is the world's premier maket of concert marimbas. Located in the college town of Arcata, nested in the Redwoods of California, the company makes custom marimbas, giving great attention to the sound that customers want on their instrument, within their budget.