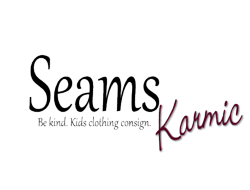 We're the busy mom's choice for high quality, hand-picked, and mother approved gently loved kid's clothes online. We help families get great kid's clothes without busting the budget.
(PRWEB) January 22, 2013
While the first month of the new year continues on, many families are having to tighten their belts as higher taxes take effect. With families still needing to buy the essentials; food, shelter, and yes, clothing, a new way for parents to shop for affordable, high quality children's clothes has emerged. North Carolina based startup, Seams Karmic, offers busy parents a way to shop and sell gently loved, practically new kids' clothes online. Brand name clothes are available at consignment prices of up to 80% off retail, making Seams Karmic a great option for budget minded parents. The company was founded by a mother of two who had been investing too much time and money in her children's clothes knowing they would only out grow them months later. Having waited in lines to sell clothes, picked through racks at neighborhood thrifts, and hauled crying kids store-to-store to find deals on kid's clothes, Roslyn Cruz chose to create an online consignment marketplace for moms and dads to save time and money on the constant upgrades to their children's clothes. With a background in the clothing industry, Roslyn is highly trained in identifying quality garments and her expertise is now a trusted tool for parents seeking quality, yet inexpensive kid's clothes. Seams Karmic's quality standards ensures that parents only receive terrific, like-new kid's clothes that they can be excited to see their children wear. Families can also sell their gently worn, outgrown kid's clothes without leaving home. Parents can order Seams Karmic's Closet Cleanse bag service which offers a way to clean out and earn cash on kid's clothes. For those that are interested, Seams Karmic provides a unique additional service for parents selling kid's clothes; should there be an item the company cannot buy, they offer to donate the item on the parent's behalf, and return to the them the donation receipt (and good karma).
Kids' Clothing Consignment has never been so easy. In increasingly tough times, Seams Karmic can help busy parents easily prepare for their children's next growth spurt or just for next weeks playdate without busting their budget. Find out how easy it is to Shop, Sell, and Donate high quality, practically new kids' clothes at seamskarmic.com All orders $40 and over earn complimentary shipping.