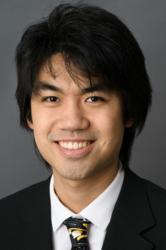 "Williams is the American Prokofiev" - Robert Aldridge
Beverly Hills, California (PRWEB) June 03, 2013
At this moment, Sean Chen (@SeanChenPiano) has just completed his stunning solo recital for the semifinal round of the Van Cliburn competition. His highly personal performances reveal an artist of a new caliber, of vibrant creativity. Coming off his win in the year-long APA competition, he is in the heady and exclusive region of the world's finest musicians. Mr. Chen has launched what is sure to be a long and highly regarded recording career with a release on Navona Records, which will be followed by another release on the Steinway label.
The Navona release features the music of American composer Michael Glenn Williams The release is the recording premiere of Williams' works "For the Young Artist" "Ringtones" and "Tone Poems vol 2." Navona is distributed by the Naxos music group. Mr. Williams music is published by GWhiz Arts & Sciences. His music is also available on AIX and Stradivarius
For more information
Sean Chen:
Contact Glenn Petry (212) 625-2038 gpetry(at)21cmediagroup(dot)com.
Navona:
Contact Jon Upchurch at (603) 758-1718 jon(dot)upchurch(at)parmarecordings(dot)com.
Michael Glenn Williams:
Contact GWhiz Arts & Sciences, Helen Waters
(424) 234-9449 helen(dot)waters(at)gwhiz(dot)com.