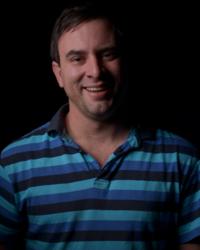 I love lecturing, it's fun and energizing and keeps my creativity on its toes...so as long as my writing, filmmaking and lecturing can work effectively together I'll keep doing them all
(PRWEB) December 10, 2012
A submission from a South African lecturer and screenwriter has won the Academy Nicholl Fellowship for the first time in its history.
Sean Robert Daniels, a Film & Television lecturer at The Open Window School of Visual Communication, penned a screenplay called 'Killers', which landed him in the top 10 for the prestigious fellowship.
'My every day life is exactly what it was like before I left to receive the award in LA in November, the only difference is that now I'm working on developing my next idea', says Daniels.
'Killers', the work that won him the coveted fellowship, is the story of a hitwoman who is called back to her hometown by her dying mother. Rather than suffer, the mother asks the hitwoman to kill her. The story then follows the dark and complex relationship between the hitwoman, her mother and her mother's enigmatic doctor.
'In many ways it's a film about life, family and the often unasked question, "When the choice of someone's death is in your hands, what do you do with it?", comments Daniels.
The screenwriting competition received a total of 7 197 submissions, a record number, and of those entries nine were from South Africa.
Finalists' scripts were read and judged by the Academy Nicholl Fellowship Committee, which may award as many as five of the prestigious $35 000 fellowships.
Daniels, who completed his studies in Perth in 2004, majored in Film & Television and has an honours degree in Screen Arts, says that he has been contacted by 'a plethora of agents and production companies in Hollywood' since the announcement and has since signed with Josh Goldenberg at Kaplan/Perrone. Maintaining humility though, Daniels comments that some of the most excited people are his students at the Open Window School of Visual Communication.
'I love lecturing, it's fun and energizing and keeps my creativity on its toes...so as long as my writing, filmmaking and lecturing can work effectively together I'll keep doing them all', says Daniels 'It was great to receive the support from my students they were proud in the achievement of someone they know, and excited in that they realise Hollywood is not just some distant dream.'
The recipients of the 2012 Academy Nicholl Fellowships in Screenwriting were honoured on Thursday, November 8, at a ceremony at the Beverly Wilshire.
In his award acceptance speech, Daniels said, 'In the arts, I see writing as perhaps the most terrifying and still most magical job to have. But it is also the most lonely and isolating. One of the best parts of the Academy Nicholl Fellowship week has been meeting the other Finalists and Fellows and, in a sense, becoming part of a new family.'
Daniels will be expected to complete a feature-length screenplay during the fellowship year.
About The Open Window
Founded in 1989, The Open Window School of Visual Communication in Centurion is one of South Africa's best-known and respected art and design higher education institutions.
Every year approximately 650 students join this creative hub to pursue BA Degrees in Visual Communication Design and Honours Degrees in Visual Communication, while a range of focused creative short courses appeal to a much wider audience.
A university-style academic approach, up-to-the minute curriculum, and an interactive class environment give aspiring creatives a firm academic and practical foundation to hone their skills, channel their energy, sculpt their ideas and turn concepts into eye-catching designs. The ultimate aim is to give students the competitive edge to not only make it in the world of design, but to become industry giants.