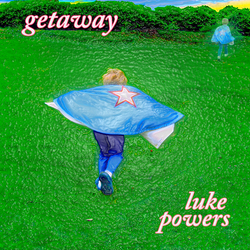 the song commemorates an achievement not just for the United States but for the world and humanity itself.
Nashville,TN (PRWEB) July 20, 2009
Do you remember where you were when ...?
Everyone has heard this type of question. Unfortunately, it usually refers to something negative: the assassination of a president, the attack on the Twin Towers.
All too seldom is the question asked about something one remembers with fondness or joy. A moment of triumph or bliss burned into the collective consciousness. Perhaps the last happy global memory was the moon landing by the crew of Apollo 11 on July 20,1969--forty years ago.
The world looked with awe and wonder (not shock and awe) at an achievement playing out in real-time in grainy black-and-white images on a television set.
Luke Powers' newest song and music video "Sea of Tranquillity" (named for famous lunar landing site) is both memory and commemoration. Memory of a child bouncing weightlessly like a balloon as Luke and his brothers watched the astronauts hopping about the lunar surface.
But Powers adds: "the song commemorates an achievement not just for the United States but for the world and humanity itself."
The music video, assembled by Italian post-neo-realist filmmaker Arturo Zapanini, combines NASA footage of the event with a wide range of fictional film,animation and book illustrations of moon landing iconography:
1. illustrations to Edgar Allan Poe's bat-winged moon inhabitants from his literary hoax about a moon trip taken in 1835;
2. Georges Melies' early film "A Trip to the Moon" with iconic image of the rocket landing in the Man-in-the-Moon's eye;
3. Jules Vernes' book-cover to "A Voyage to the Moon";
4. scenes from B-Movie "Cat-Women of the Moon";
5. paintings of the Greek goddess Luna overlooking the sleeping Endymion (most famous from John Keats' poem).
Zapanini says, "Personally, I don't believe they ever went to the moon. They faked it. You look close you can tell. It takes an artist's eye to see how art cheats the eye. Mankind wishes to conquer the goddess Luna but the goddess she always conquers mankind."
Powers disagrees. "I was only a small kid, but I saw it. Walter Cronkite was real enough for me." Though he doesn't fully understand it, he does admit to liking Zapanini's work. "That's not how I would have done it, but it works on some kind of weird subversive level."
The song appears on Powers' latest CD Getaway to be released in August 2009 on Phoebe Claire Records (http://www.phoebeclaire.com).
Powers is an Americana singer-songwriter and college professor based in Nashville, TN. He has worked with Garth Hudson (of The Band), producer/musician Tommy Spurlock (David Olney, Chip Taylor, Rick Danko), and Kenny Vaughan (Americana Music Association instrumentalist of the Year for 2007).
On "Sea of Tranquillity" Luke is joined by the inestimable Suzi Ragsdale (daughter of country legend Ray Stevens and talented singer-songwriter in her own right) and Tim Lorsch (fiddler/cellist extraordinaire with the Goose Creek Symphony). The song was recorded and mixed at the studio of Bradley Hartman (engineer for Willie Nelson and Emmylou Harris).
Powers is an award-winning songwriter: his song "I Saw John Kennedy Today" (performed by Ralston Bowles) received a Jammy award for Best Song in 2008. That same year he had a song featured on "Musicians for Minneapolis," a CD-set for the I-35W Bridge Disaster relief. His CD "Texasee" (2008, Phoebe Claire Records) was named a top five Americana release by twangnation.com and debuted at #15 on the International Freeform American Roots (FAR) Airplay Chart for Nov.2008. Texas Music Magazine included his song "Bob Bradlee TV Cowboy" on its annual "Best of" compilation CD in Spring 2009. His work has been compared to Johnny Cash, Townes Van Zandt and Cormac McCarthy. John Conquest (Third Coast Music Magazine) writes: "Powers creates a fascinating musical landscape & for a perfessor, he sings pretty darn good to boot."
###