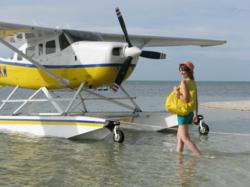 Ocean Adventures in The Keys - as seen on The Travel Channel's Trip Flip
Key West, Florida (PRWEB) May 25, 2013
Key West Seaplanes, the region's premiere and long-established seaplane charter company has been featured on a recent episode of The Travel Channel's exciting new travel show, Trip Flip. Since the original airing of the show on April 7, 2013 Key West Seaplanes announces that demands for their luxury seaplane charters has risen by over forty percent. This includes increased demands for the company's unique "Island Hopping Flights" as featured in the wildly popular television show entitled "Ocean Adventures in The Keys".
Key West Seaplanes' representative, Julie Ann Floyd excitedly shares "We have seen an overwhelming response to the Trip Flip episode...many viewers have been calling to learn more about our Island Hopping Seaplane Adventures as well as our seaplane charters to the Bahamas and Caribbean". She adds, "We have seen an increase in calls and bookings for these trips by over sixty percent in just the past 6 weeks since the original airing of the show on April 7, 2013....The interest in our private seaplane charter flights has been just amazing"
Key West Seaplanes was contacted by The Travel Channel a few months ago to provide a private seaplane charter for guests arriving from Colorado. "We had a great idea for the Trip Flip producers that was to feature a private seaplane charter from Miami, traveling along the length of The Florida Keys, making numerous Island Hopping stops en route to Key West" states Floyd. She continues with "They thought the idea was stellar and chose to make stops in the middle keys with the guests taking time to have a bite to eat and then also to do some snorkeling before proceeding on to Key West".
Key West Seaplanes charters and Island Hopping services are unique in that the company offers private seaplane charters from the Florida mainland all along the length of The Keys, continuing the whole length down to Key West. The company's official website, http://www.KeyWestSeaplanes.com boasts that travelers can "Island Hop" via private. luxury seaplane without ever leaving The United States and that there is "No Passport Required".
The region's premiere seaplane charter company, Key West Seaplanes is long-established and offers seaplane charters to Little Palm Island and other exclusive destinations, including Key West, Marathon, Islamorada and all points along The Keys. "All of these destinations have shown tremendous increase in inquiries and bookings from travelers who viewed the Trip Flip episode" says Floyd..."Once travelers have seen how luxurious our seaplanes are and how comfortable and versatile it is to travel with us they have been calling with a desire to learn more about this unique mode of travel".
Key West Seaplanes also offers seaplanes to The Bahamas and all The Caribbean with the most popular destinations being Nassau and Bimini in The Bahamas. The company boasts that since the airing of the Trip Flip episode they have seen a tremendous jump in the popularity of these itineraries as well.
The seaplane company is based in Key West and has been in full operation since 2009. Key West Seaplanes also offers Key West airplane tours with local aerial sightseeing and aerial photography by airplane and seaplane."There is no better way to see The Keys and Key West than by air....and if you want to also enjoy the beautiful blue waters then a seaplane is the only way to do it all" states Floyd.
Key West Seaplanes continues to expand it's fleet and services and has recently expanded its fleet with a custom-designed and custom-seaplane which surpasses all safety and comfort measures in the seaplane industry. The company is locally-owned and operated with its base in Key West. The company states that their services are in high demand and that their pilots have many years of experience flying in The Keys, Florida as well as The Bahamas and Caribbean. The company has also been featured in the coveted FLYING magazine, Pilot Getaways magazine as well as three times this calendar year in Florida Travel and Life. Julie Ann Floyd, Key West Seaplanes pilot and owner of four aircrafts also represents Key West Seaplanes in the current edition of Water Flying Magazine.