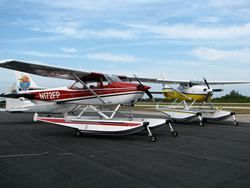 Fisher Island seaplane flight to benefit American Cancer Society...
Key West, FL (PRWEB) February 24, 2014
Key West Seaplanes® announces their donation of a Fisher Island seaplane private charter flight to benefit the American Cancer Society. The premier seaplane company supports the American Cancer Society Gala to be held on March 15, 2014 at the Marriott Beachside Resort, Key West.
Key West Seaplanes® pilot Julie Ann Floyd excitedly shares, "We are happy to support such a great cause and look forward to attending the event ourselves. This will be the second year we have donated a private seaplane charter flight via seaplane to an exclusive destination such as Fisher Island...and we are thrilled to know this benefits people in our own community who are battling cancer." The company offers seaplanes to Fisher Island service and seaplanes to all points on the mainland, The Florida Keys as well as Bahamas and Caribbean.
Floyd also adds, "Our private charter flights from Key West to Fisher Island via seaplane is a magnificent experience and the flight is just about an hour. We fly direct from Key West to Fisher Island so there is no driving, no traffic!" Key West Seaplanes® has been offering seaplane charters from Fisher Island and Miami for a number of years and is excited to team up with the American Cancer Society again to make this getaway happen for a lucky couple.
Key West Seaplanes® also offers seaplane charter service to all of the Florida mainland to Little Palm Island and Key West with popular routes being seaplane Miami to Key West, seaplane Naples to Key West, seaplane Ft. Myers to Key West and seaplane Ft. Lauderdale to Key West. The company also offers seaplane charters from Key West to The Bahamas as well as from all the mainland to The Bahamas.
The seaplane company has also found their local Seaplane Scenic Flights of Key West to be very popular with tourists and locals. Pilot Floyd says, "Many people arrive to Key West via cruise boat or make the long drive down from the mainland...and they see the gorgeous blue waters and want to explore it all from the air above. Of course, they also get to experience it with water landing and take offs. It's really beautiful and very exciting."
Key West Seaplanes® is based in Key West. The company formed in 2009 and is locally owned and operated by long-term local residents Julie Ann Floyd and Nikali Pontecorvo. The company has been featured numerous times in Florida Travel and Life, Water Flying Magazine, FLYING Magazine and has also appeared on The Travel Channel's Trip Flip seaplane to Postcard Inn/Islamorada episode. The company is proud of their fleet that includes the Grand Champion Seaplane of Sun N Fun 2012 and the Reserve Grand Champion Seaplane of Sun N Fun 2013. These amazing members of the Key West Seaplanes® fleet possess every safety and performance modification known in the seaplane industry.