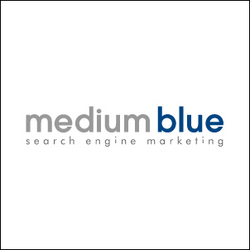 Medium Blue is honored to be nominated for such an esteemed award
Atlanta, GA (PRWEB) March 26, 2008
The Atlanta chapter of the American Marketing Association has selected Medium Blue and Inviro Medical Devices as one of two finalists for an Atlanta Marketer of the Year (AMY) Award in the category of Search Engine Marketing: Search Marketing Campaign Business to Business for their 2007 search engine optimization (SEO) campaign. The AMY Awards recognizes outstanding individuals and companies who have made contributions and strides in marketing during the previous year, awarding recipients within each of ten different categories. The winners will take home the AMY Awards' symbolic Red Pencil signifying the challenges of devising a marketing plan and following it through from start to finish. Finalists were selected by an independent panel of judges after considering each company's goals, mission, and impact on the community.
"Medium Blue is honored to be nominated for such an esteemed award," said Scott Buresh, founder and CEO of Medium Blue Search Engine Marketing. "We look forward to continuing our successful business relationship with Inviro."
Individual or company registration for the Gala is available to both AMA and non-AMA members and registration can be completed online. The annual AMY Awards Gala will be held this year at the Fox Theatre in downtown Atlanta on Thursday, March 27 from 5:30 PM to 10:00 PM. The competition, open to both corporate and agency marketing companies in Georgia, awards those partnerships that help businesses realize their goals through offline and search engine marketing. With more than 130 submissions from 72 organizations around the state, the AMY Awards is proud to congratulate the finalists of Georgia's marketing community.
For more information on the Gala, please visit http://www.amyawardsatl.com.
About Inviro Medical Devices
Founded in 1988, Inviro Medical Devices engineers and markets safe medication delivery systems, including the patented InviroSNAP!® with InviroSTRIPE® Safety Syringe, a manually retractable safety syringe with an integral write-on stripe that allows critical information to be recorded directly onto the syringe barrel. After years of research to develop its patents and refine its product designs, the company is addressing the growing $1.6 billion safety syringe market and introducing its breakthrough infection control technology in North America. Headquartered in Atlanta, Inviro Medical Devices is becoming a leading industry champion in the quest to increase infection control awareness and to protect healthcare workers, patients and the environment with innovative medical devices. For more information, visit http://www.inviromedical.com.
About Medium Blue
Medium Blue Search Engine Marketing, an Atlanta search engine optimization company, was recently named the number one search engine optimization firm in the world by respected industry resource PromotionWorld. Medium Blue's services include search engine optimization, website conversion, and online public relations. The company's experts in these areas are recognized leaders in the search engine marketing industry and have been featured in numerous publications, including ZDNet, WebProNews, MarketingProfs, DarwinMag, SiteProNews, SEO Today, ISEDB.com, and Search Engine Guide, and contributed to The Complete Guide to Google Advertising (Atlantic, 2008) and Building Your Business with Google for Dummies (Wiley, 2004). Medium Blue services a national client base, including Boston Scientific, DS Waters, and Windsor Communities. Visit MediumBlue.com to request a custom SEO guarantee based on your goals and your data.
###