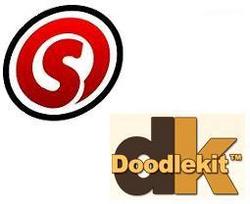 A primary component of our affiliate strategy is to work with companies that will enable us to broaden our reach to small and mid sized companies that can benefit from our Paid Search (PPC) and Search Engine Optimization services
Lenxa, KS (PRWEB) February 24, 2009
Sweet Spot Marketing® and Doodlekit® announced today they have agreed to enter into an Affiliation Agreement to provide customers with first in class Web Site Design and Search Engine Marketing Services.
This collaborative effort will benefit clients when they combine great web design and the accessibility of top notch search engine optimization (SEO) and pay per click (PPC) marketing. Streamlining the exchange between site development and online marketing benefits clients by bringing together all cross functional goals, as well as accelerating a client's web presence.
Companies can sign up at Doodlekit.com and opt in for the SEO and PPC expanded service offerings provided by Sweet Spot Marketing to drive online traffic to Doodlekit's clients' Web site. Sweet Spot Marketing is a certified Google Adwords Company, Yahoo! Ambassador, and MSN Ad Excellence Professionals.
"A primary component of our affiliate strategy is to work with companies that will enable us to broaden our reach to small and mid sized companies that can benefit from our Paid Search (PPC) and Search Engine Optimization services," said David Barnes, President of Sweet Spot Marketing®. "Doodlekit is a highly respected, rapidly growing company known for providing outstanding service to its customers across the United States. "We see this partnership as a step towards greater success both in Kansas City and the greater US market. Our mutually complementing capabilities and backgrounds will equip businesses with an affordable marketing plan built on a solid foundation."
Online advertising has seen phenomenal growth over the last 5 years passing news print and just recently radio for total marketing dollars spent per month. During this economic recession online marketing is more important as shoppers seek better bargains. In an October 2008 Harris Interactive poll, the average amount of hours spent online increased to 14 hours per week - double the average of October 2001.
About Sweet Spot Marketing®:
Sweet Spot Marketing® LLC is a Search Engine Advertising Agency that is focused on developing, implementing and optimizing Search Engine Marketing campaigns. Specializing in Search Engine Optimization and Paid Search Advertising, Sweet Spot Marketing® was formed in 2007 and is based in Lenexa, Kansas. A second office was opened in San Antonio, Texas in 2008. More information can be found at SweetSpot-Marketing.com
About Doodlekit®:
Doodlekit is an online free website builder that not only allows you to create your website online, but hosts it as well. Unlike other free website builders, Doodlekit was built with the user in mind first. Doodlekit's primary focus is to empower novice users to create professional websites that are eye-catching. Doodlekit helps you achieve the right look by providing multiple layouts, color themes, stock photos, image cropping tools, background image library, custom CSS overriding, and much more.
###