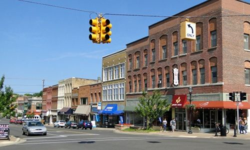 San Diego, CA (PRWEB) January 27, 2012
San Diego SEO Services company Market Target announced today the launch of a marketing service designed specifically for underserved small town businesses. Hometown Helper Service is designed to get small town businesses a revenue generating presence on the internet by incorporating custom websites (based upon Wordpress), search engine optimization, Google Places for Business, Adwords, Yahoo Local and Bing Local. Market Target also incorporates the same tools and techniques used in their San Diego SEM and San Diego SEO Consulting offerings.
Market Target understands that the economy has hit many businesses, especially in smaller communities. To help offset this, Market Target has created a simple pricing structure for this all inclusive package of $199 per month, with a one time $499 setup fee. Upon signup, Market Target staff will work with customers to determine which areas should be focused on, to deliver the best and quickest return on their investment. Each month Market Target completes additional items, ranging from press releases to custom articles and content and backlink campaigns. This not only spreads the costs out for the business, but it does so in a strategic way - allowing for a long term strategy to be implemented that eliminates the effort of redoing something or wasted effort and money.
Businesses that are interested in this special offer from Market Target are encouraged to contact them right away as this special offer is restricted to the first 100 signups. Please call 877-828-0196 or email marketing(at)markettarget(dot)com
About MarketTarget
Since 2009, MarketTarget has been a leading provider of Search Engine Optimization, Search Engine Marketing and SEO Training Services. As a full service San Diego SEO services firm, MarketTarget also offers full service web marketing, SEO consulting services and custom SEO training options specifically tailored for small businesses. What sets Market Target apart from the competition is a mixture of Results, Communication, Pricing and Service. Our team of SEO Consulting Experts is focused on delivering SEO Services for San Diego, Los Angeles, Phoenix, San Francisco and Las Vegas. To learn more about what Market Target can do for you, please call 877-828-0196, email us marketing(at)markettarget(dot)com or visit our website at http://www.markettarget.com
Market Target has offices in the following locations;
Market Target Carlsbad
1902 Wright Place Suite 200
Carlsbad, California 92008
(877)828-0196
Market Target San Diego
445 Eastgate Mall Suite 200
San Diego, California 92121
(858)433-8659
Market Target New York
590 Madisson Avenue
New York City, New York 10022
(212)256-9141
###