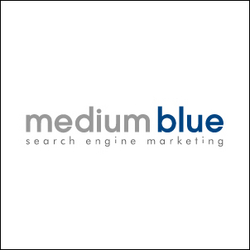 Adding Search to Your Marketing Mix.
Atlanta, GA (PRWEB) August 21, 2007
Medium Blue Search Engine Marketing, an Atlanta-based Internet marketing firm, has today announced the release of a free whitepaper entitled "Adding Search to Your Marketing Mix." This informational piece is targeted toward marketing executives who may be considering search engine marketing for the first time but are uncertain how to align it with their existing marketing strategies. The whitepaper is available for download at http://www.mediumblue.com/free-whitepaper.php.
"We have seen increased interest in search engine marketing over the past year from marketing executives who have never tried the channel and are not sure how to begin," said Scott Buresh, Medium Blue's Chief Executive Officer. "'Adding Search to Your Marketing Mix' was written to address the common questions that we have been hearing from these individuals."
The whitepaper is divided into three main sections, each intended to address three popular areas of inquiry. The first section details how to achieve internal buy-in and get the right departments within the organization on board in order to set the foundation for a smooth campaign. The second addresses how to leverage existing company assets - from personnel to content - to get the most out of the campaign. The last section goes into detail about some of the unique challenges inherent to the field of search engine marketing.
"This whitepaper is the first of many that we will be writing to address the common questions of those becoming interested in the search engine marketing industry," added Buresh. "These whitepapers will also be a welcome addition to our existing resource library, which features more than 50 of our widely-published Internet marketing articles and the latest search engine news."
About Medium Blue
Founded in 2000, Medium Blue Search Engine Marketing offers search engine optimization, website conversion, and online public relations services that deliver measurable results in traffic, customer acquisition, and revenues. The Atlanta-based Internet marketing company services a national client base, including DS Waters, Cirronet, and Windsor Communities. Scott Buresh, president and CEO of Medium Blue, is an internationally recognized SEO expert who has been featured in numerous publications such as ZDNET, WebProNews, MarketingProfs, DarwinMag, SiteProNews, ISEDB.com, Search Engine Guide, and Building Your Business with Google for Dummies. In 2006, Medium Blue was named the number one search engine optimization firm in the world by respected industry resource PromotionWorld.
# # #