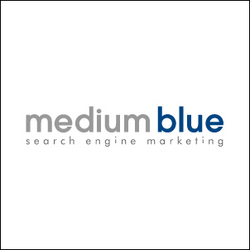 We look forward to delivering top-notch results and seeing IDS' leads and traffic increase dramatically in the coming months.
Atlanta, GA (PRWEB) August 12, 2008
Medium Blue Search Engine Marketing is proud to announce that it has signed its newest client, Innovative Data Solutions (IDS), for one year of search engine optimization services to help IDS achieve its goals for its website. The two companies are eager to embark on a highly targeted SEO campaign that will increase website leads and traffic to the site and disseminate information regarding its products.
"After doing our research in the very crowded world of search engine marketing companies, we agreed that Medium Blue's attentiveness to details during the pre-sales process and reputation in the industry made the choice clear," said Josh Brown, President of Innovative Data Solutions. "In the short time we have worked with the search engine marketing company's professional and knowledgeable staff, we have already seen great results in our organic search rankings. We look forward to furthering the progress of this SEO campaign and anticipate a great, long-term relationship."
IDS is a major provider of policy procedure management tools and electronic organizational software. Some of the company's products include PowerDMS, PowerTEST, PowerSURVEY, PowerTRAINING, and PowerDETAILS, ideal for a wide range of industries including law enforcement, governmental agencies, healthcare, hospitality, and telecommunications. IDS differentiates itself by offering fully customized products with simple interfaces and scalable solutions that meet clients' needs. Both Medium Blue and IDS are eager to see the outcome of this collaborative SEO campaign.
"We anticipate great things from our collaboration with IDS," said Scott Buresh, CEO of Medium Blue Search Engine Marketing. "We look forward to delivering top-notch results and seeing IDS' leads and traffic increase dramatically in the coming months."
About Innovative Data Solutions
Innovative Data Solutions (IDS), a Florida-based policy procedure management and electronic organizational software company, develops software applications for numerous industries nationwide, including governmental, financial, and public enforcement agencies. IDS markets its products via its website, direct mailings once a quarter, and trade shows. With an innovative approach to understanding and learning management software, IDS sets itself apart from the crowd by addressing specific needs and never overcomplicating things.
About Medium Blue
Medium Blue Search Engine Marketing, an Atlanta search engine optimization company, was recently named the number one search engine optimization firm in the world by respected industry resource PromotionWorld. Medium Blue's services include search engine optimization, website conversion, and online public relations. The company's experts in these areas are recognized leaders in the search engine marketing industry and have been featured in numerous publications, including ZDNet, WebProNews, MarketingProfs, DarwinMag, SiteProNews, SEO Today, ISEDB.com, and Search Engine Guide, and contributed to Building Your Business with Google for Dummies (Wiley, 2004). Medium Blue services a national client base, including Boston Scientific, DS Waters, and Windsor Communities. Visit MediumBlue.com to request a custom SEO guarantee based on your goals and your data.
###