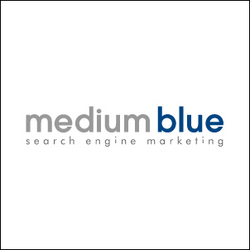 More than that, however, we saw an immediate difference with everyone at the company, who went out of their way to make sure that we understood the direction of the SEO campaign.
Atlanta, GA (PRWEB) October 28, 2009
Medium Blue Search Engine Marketing, a search engine optimization company in Atlanta, Georgia, is pleased to announce that it has joined forces with Oliver Wight Americas, an eminent thought leader in the business management consulting field. For the experts in sales and operations planning (S&OP), choosing Medium Blue made sense when it came to highlighting the company's extensive educational and consulting services online.
"The most impressive part of the campaign thus far is the amount of time that Medium Blue took to research and truly understand our industry and goals," said Susan Hansen Vice President, Operations & Marketing of Oliver Wight Americas. "More than that, however, we saw an immediate difference with everyone at the company, who went out of their way to make sure that we understood the direction of the SEO campaign."
For over 40 years, Oliver Wight Americas, a division of Oliver Wight International, has remained a recognized leader in business management consulting. The company's consultants, all of whom have years of hands-on experience, are widely regarded as business improvement specialists who educate, coach, and mentor clients on improving in-house processes through Class A best practices. The goal of the SEO campaign, however, is to drive targeted traffic to Oliver Wight's unique service offerings, which include consulting, education, books, and videos.
"It is a great honor to be chosen by such a renowned management consulting firm for assistance in promoting its educational, coaching, and mentoring services online. We will work side by side with Oliver Wight Americas to ensure that their unparalleled service offerings are introduced effectively to a rapidly increasing internet audience," said Scott Buresh, CEO of Medium Blue Search Engine Marketing. To learn more about Oliver Wight's S&OP solutions, please visit http://www.OliverWight-Americas.com, or contact Medium Blue for more information on its search engine marketing services by visiting http://www.MediumBlue.com.
About Oliver Wight Americas, Inc.
Oliver Wight Americas has been both a thought leader and hands-on practitioner for over 40 years. As a global business management consulting and education firm, the company specializes in helping organizations work smarter, faster, and better than their competitors. Its principals are seasoned professionals who have real-world manufacturing experience and transfer this knowledge to the people at all levels of an organization, providing tools to help organizations internalize that knowledge and achieve a competitive advantage in the marketplace. The largest world-wide consultancy of its type, Oliver Wight has offices throughout Europe, North and South America, and the Asia/Pacific Region. For more information, please visit http://www.oliverwight-americas.com.
About Medium Blue
Medium Blue Search Engine Marketing, an Atlanta search engine optimization company, was named the number one organic search engine optimization firm in the world in 2006 and 2007 by respected industry resource PromotionWorld. Medium Blue's services include premium search engine optimization, PPC management, visitor conversion, and online public relations. The company's experts in these areas are recognized industry leaders and have been featured in numerous publications, including ZDNet, WebProNews, MarketingProfs, DarwinMag, SiteProNews, ISEDB.com, and Search Engine Guide, and contributed to The Complete Guide to Google Advertising (Atlantic, 2008) and Building Your Business with Google for Dummies (Wiley, 2004). Medium Blue services a national client base, including Boston Scientific, Cbeyond, and DeKalb Medical.
###