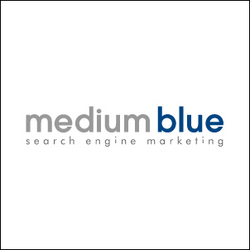 Medium Blue is honored to have been recognized by the American Marketing Association. We would like to thank the AMA for recognizing the outstanding results achieved through our SEO campaign for the Atlanta Humane Society
Atlanta, GA (PRWEB) April 6, 2010
Medium Blue Search Engine Marketing is pleased to announce that it is the winner of an American Marketing Association award for its 2009 SEO campaign with the Atlanta Humane Society (AHS). Throughout the past year, Medium Blue worked with the AHS on a pro-bono basis, helping to raise awareness of its adoption and health clinic services through a variety of search engine marketing initiatives, including search engine optimization, online public relations, and conversion.
"Medium Blue is honored to have been recognized by the American Marketing Association. We would like to thank the AMA for recognizing the outstanding results achieved through our SEO campaign for the Atlanta Humane Society," said Scott Buresh, CEO of Medium Blue Search Engine Marketing.
Medium Blue performed in-depth research into the Atlanta Humane Society's industry, learning more about its audience and unique differentiators before kicking off the SEO campaign. In just a few months' time, site visitors rose from 6,691 at benchmark to 21,289, a 228% improvement in monthly traffic. Additionally, the site's rankings increased significantly, with many reaching number one positions in the top five search engines. Optimized press releases and articles also helped to ensure impressive results early on. At the outset of the campaign, the AHS received 91 adoption applications. Just a few months later, the AHS received 292 applications, a record for the organization. The current average hovers around 180 applications per month, a 98% increase from baseline.
"We were thrilled when Medium Blue approached us about doing work on our behalf. With the search engine optimization the company did for us, I feel like the message of the Atlanta Humane Society is reaching more people, and therefore, we're able to help more 'Society' pets," said Cathy Sleva, Vice President of Development for The Atlanta Humane Society. To honor the efforts of Medium Blue and those of all the finalists, nominees attended the AMY award ceremony held on March 11, 2010 at the Fox Theatre in Atlanta. The winners took home the Red Pencil, which signifies the challenges of developing and maintaining a successful marketing plan. To learn more about Medium Blue's search engine marketing solutions, please visit http://www.MediumBlue.com.
About Medium Blue
Medium Blue Search Engine Marketing, an Atlanta search engine optimization company, has been ranked as a top ten search engine optimization company by respected industry resource PromotionWorld for the last four years. Medium Blue's services include premium search engine optimization, PPC management, visitor conversion, and online public relations. The company's experts in these areas are recognized industry leaders and have been featured in numerous publications, including ZDNet, WebProNews, MarketingProfs, DarwinMag, SiteProNews, ISEDB.com, and Search Engine Guide, and contributed to The Complete Guide to Google Advertising (Atlantic, 2008) and Building Your Business with Google for Dummies (Wiley, 2004). Medium Blue services a national client base, including Boston Scientific, Cbeyond, and DeKalb Medical.
# # #