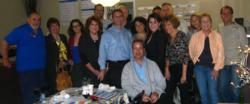 Finding an SEO expert in Miami is not an easy task. Many agencies only focus on social media or pay per click advertising. Matt explained things so everyone could understand.
Aventura, Florida (PRWEB) January 24, 2012
The Aventura Marketing Council Technology Committee meets each month to present technology related education to their members. This month, Matt Silvers from seo4anyone.com was the guest speaker. The main topic of the meeting focused on learning Google's secrets to search engine optimization.
Search engine optimization, or SEO as it is called, is a hot topic now for all marketers who want to drive more targeted visitors to their website. During the presentation, attendees took part in an interactive question and answer session with Mr. Silvers. While most members were interested in how to get their website to rank higher on Google, many other questions were focused on the difference between the pay per click paid advertising links vs. the organic or natural search engine results links.
Many of the members discussed their past experiences with internet marketing, pay per click advertising and search engine optimization experts in Miami they had worked with. Finding a local Google search consultant in South Florida has proven to be a challenging task for the members, as most consultants do not have the expertise of multiple internet marketing channels.
During the course of the question and answer session, seo4anyone presented several info-graphics to help the members visually understand the technical aspects of Google's search engine ranking algorithm. These graphics use cartoon based imagery to help non-technical marketing folks to understand the key elements of SEO such as keyword research, on-site implementation of keywords in the code and content, search engine friendly link structure in navigation, and finally in-bound link building.
One of the simplest examples that helped the Aventura Marketing Council attendees to grasp search engine optimization was the high school popularity analogy. Similar to being popular in high school, the most popular kids control who else becomes popular. In the search engine optimization world, the same rule applies. The more popular websites that link to another website, the more popularity or 'link juice' flows to that website. If a website is selling watches, then links from other top watch retailers pointing back to their website result in higher rankings for that website.
The meeting was hosted at the offices of IT Doctors, a Miami, Florida based computer repair and networking company. A summary of the meeting and pictures from the event were posted on both the Aventura Marketing Council's Facebook Fan page as well as in the AMC monthly newsletter.
About seo4anyone:
Seo4anyone is a Miami, Florida based search engine marketing agency. With offices located in Aventura, they service clients in both the South Florida area as well as national clients. Their primary area of expertise is search engine optimization, but they also are experts in social media marketing, landing page optimization and testing, and pay per click management. Seo4anyone has been located in Miami since 1997.
# # #