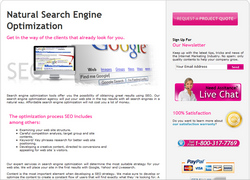 New York, NY (Vocus) February 26, 2010
Ilikewebsites.com has launched a series of commercial packages for organic search engine optimization (SEO) that easily adapt to different budgets and marketing needs.
Natural Search Engine Optimization provides three main benefits that set the difference between traditional and modern marketing – for an affordable price:

Specific targeting: Contents can guide search engines' queries towards punctual websites.
Relevance increase: Higher rankings indicate that a website is a reliable source of information in a delimited business field.
Brand recognition and trust: Exposition plus relevance adds signs of trust that potential customers recognize and consider before making an investment.
Ilikewebsites.com is an Internet marketing agency that operates through a very simple principle: it is not possible to advertise in a traditional way anymore. Many companies are missing a huge chance of massive promotion. Traditional marketing has a limited range and a narrow effect that, in the end, translates in big investments that report little results.
Search Engine Optimization (SEO) is a marketing strategy that increases both the volume and the quality of traffic to a website through the use of organic (or "unpaid") search results. By improving the quality of a website and generating calculated links with other sites, it is possible to reach higher rankings on queries and, thus, build up trust, relevance and bigger exposition – that translates into more business opportunities and return of investment.
To get more information about SEO packages and web marketing special offers, please visit I like Websites.
###