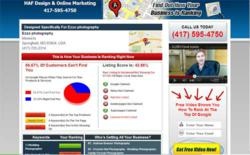 According to Holli Fischer, owner of HAF Design, "Business owners are realizing how they are ranking on Google local searches. After seeing their report, they want to know how they can show up better in local searches."
Springfield, MO (PRWEB) September 26, 2012
Many businesses are finding out they can not be found on Google when prospective customers are searching for their products and services. Business owners that have a business focusing on a specific geographic area can now find out how they are ranking on Google for free as well as get tips on how they can dominate their local markets.
With the increasing rise of people using their phones and tablets to find a local business, if a business is not being found on local searches than they are losing a lot of money, and their competition is getting it. HAF Design has acquired this new proprietary technology that is still in beta, and they are getting remarkable results.
The SEO Ranking Report is easy to understand. All they do is enter their phone number, which should be the main phone number of their business. They will be able to see their report instantly. This software pulls information from Google and creates a report that any business owner can understand. By utilizing this information, a business owner can not only see how their business is ranking, but they can also see who is getting their business.
Utilize this new technology acquired by HAF Design in Springfield, MO to help business owners grow their business by leveraging the Internet with local search engine optimization.