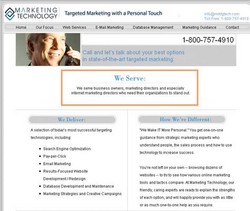 Small businesses now have the ability to target specific audiences
Silver Spring, MD (PRWEB) October 28, 2008
Marketing Technology, Inc. is introducing a new website that allows customers to easily access their personal approach to direct marketing service technologies. The new site, MrktgTech.com, connects businesses with Marketing Technology's services and team of consultants.
"Small businesses now have the ability to target specific audiences," says Linda Greenwald, Director of Business Development. "The problem is, many of the companies that provide these services take a very impersonal approach. We bring a personal touch to the process of getting personal with customers, helping our customers to quickly discern which technologies hold great promise and how to proceed."
Marketing Technology offers everything from an effective search engine placement service to email marketing and design. These technologies are revolutionizing the ways businesses attract and keep a customer base. They are highly competitive and often, in the case of something such as search engine optimization and management, constantly evolving. Marketing Technology aims to personalize these technologies. Their stated goal, in fact, is to make IT personal.
"We have the technologies to make marketing more efficient than ever before, but to use them successfully a small business must learn to value, establish and maintain more personal relationships with prospects and customers," said Greenwald. "Marketing Technology makes [personal relationships] possible by introducing mindsets and approaches common to market leaders, starting with a focus on the needs of the people that the company exists to serve." The key to the success of Marketing Technology is their combination of modern direct marketing service options and personalized consultation.
On the new website clients will find a directory of the services available from Marketing Technology. They will also be able to connect with Marketing Technology's staff of consultants. When contacted, the team at Marketing Technology will be able to explain the available technologies and help clients determine if something such as their search engine placement service or an opt in email campaign is a better choice for the client's overall goals.
To learn more about Marketing Technology, visit their new website at MrktgTech.com or call 1-800-757-4910.
About Marketing Technology, Inc.:
Marketing Technology not only offers a full range of state of the art targeted marketing technologies but also the one-on-one consultation necessary to make the best use of the available options. The company's goal is to make IT personal. By partnering with industry leaders such as Network Solutions and iContact, Marketing Technology is able to guarantee cutting edge technologies, including effective search engine placement service and website development, are available to its clients.
###