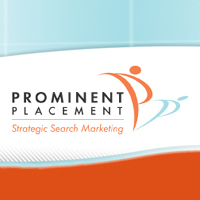 Strategic efforts like these can generate strong results even in a challenging economic situation.
Atlanta, Georgia (PRWEB) March 7, 2010
Prominent Placement, Inc., (PPI) a leading Atlanta search engine marketing firm, is a top three finalist in two categories for this year's Atlanta Marketer of the Year (AMY) Awards from the American Marketing Association (AMA).
Winners to be announced Thursday, March 11th 2010 at the annual American Marketing Association Awards Gala in Atlanta, the AMY Awards recognize excellence and effectiveness in marketing programs created by Atlanta area agencies and businesses.
Prominent Placement has been repeatedly acknowledged for its excellence in the Search Engine Marketing category. This category recognizes strategic Internet marketing campaigns that increase traffic and effectiveness for websites by utilizing search engine optimization, pay-per-click advertising or a combination of both. Prominent Placement is the only Atlanta SEO company to have received honors in this category every year they've entered since the early 2000's.
The Atlanta SEM company is nominated for the firm's strategic Internet marketing campaign for their entry for Abacus Solutions, "Building on Search Success in a Declining Economy" and for Polaris Marketing Research, "Utilizing Content-Rich Microsites to Maximize Leads."
Abacus Solutions (abacusllc.com) is a global provider of IT infrastructure solutions, products and services. The client has maintained a web presence, marketing online since 2001. With a very limited budget, PPI met the challenge of invigorating already strong results with a strategic and profitable search marketing program that exceeded all pinnacles achieved to date resulting in a 30% increase in year-over-year search-referred web leads, reduced the cost per search-referred lead 45% and generated a conservative ROI of 610%.
Polaris Marketing Research, Inc. (polarismr.com) is a national, full-service marketing research company specializing in customer satisfaction and loyalty measurement programs and quantitative and qualitative analysis. PPI's challenge was to increase the number of website conversions (leads) generated from their paid search campaign and convince the client that paid search was an effective lead generation tool for their business. To address this formidable task, PPI developed a bold strategy for the client's paid search campaign. Using established best practices for online lead generation, PPI developed a plan to launch multiple, free-standing, content-rich microsites themed around the service areas offered by the client.
Stacy Williams, PPI President, said "These successful initiatives highlight the value in continuing to hone even the most mature search marketing programs. They prove that sound, strategic efforts like these can generate strong results even in a challenging economic situation."
About Prominent Placement:
Prominent Placement, Inc., is a full-service, award-winning search engine marketing firm based in Atlanta, GA, serving clients throughout the US since 2001. We provide strategic search marketing solutions, delivering efficiencies that traditional marketing channels can't touch, with a level of client service that can't be matched. We manage the entire SEM process, so that businesses can focus on what they do best. Because every business is unique, so are the recommendations we make, backed by hard numbers that give decision makers the confidence and knowledge they need to make smarter decisions.
For more information or to schedule an interview contact Christine Verska at 888.SEM.MKTR (888.736.6587) or visit us at prominentplacement.com.
###