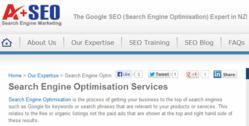 The fact is no matter how good your site looks, if you can not get potential customers to it theres no point
Auckland, NZ (PRWEB) May 23, 2013
Auckland-based search engine marketing firm A+SEO is now offering specialized SEO services to their clients. The firm is made up of a team of SEO experts and industry insiders, and guarantees their clients' great results with Google within 180 days of utilizing their services.
Haiming Jiang, spokesperson for A+ SEO stated, "Search Engine Optimisation is the process of getting your business to the top of the search engines. Our team works closely with our clients to achieve fast and lasting results resulting in increased and sustainable revenue."
Jiang went on to say, "Our SEO consultants stay on top of the changes in the Google algorithm to ensure the tactics and strategies we use fall in line with current industry trends and best practices." And "the fact is no matter how good your site looks, if you can not get potential customers to it there's no point."
Data shows that the top three positions in Google for any given keyword garner 75% of traffic. That means a plumber ranking number one for the keyword phrase "Auckland plumber" will get many more visitors to his website than his competitors.
A+ SEO has helped over 130 clients in several different markets achieve high Google rankings. The firm does not lock clients into long-term contracts, allowing them to exit the relationship at any time.
To learn more about A+SEO's Search Engine Optimization Services, visit them on the Internet at http://www.aplus.net.nz/search-engine-optimisation.html.
About A+ SEO
A+ SEO was founded in early 2008 by Google pro and former IT engineer Haiming Jiang. Using his technical skills and search engine know-how, Jiang achieved the #1 Google ranking for the keyword "SEO expert" in New Zealand. The firm quickly gained traction in the competitive New Zealand internet marketing space by growing their client base to 119 websites. A+ specializes in offering cost effective, targeted and measurable advertising services and strategies for small and medium sized businesses in New Zealand.
A+ SEO Search Engine Marketing
6/331 Rosedale Road, Albany, Auckland
(09) 448 1188
Contact Name: Haiming Jiang
Contact Phone: (09) 448 1188
Website: http://www.aplus.net.nz/