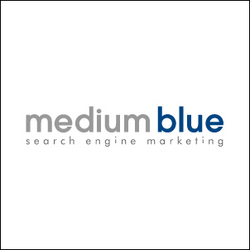 Medium Blue is honored to be recognized as the number one search engine optimization company in the world for August
Atlanta, GA (PRWEB) August 24, 2009
Atlanta-based Medium Blue Search Engine Marketing has been named the number one search engine optimization company in the world for August 2009 by PromotionWorld, a renowned industry resource. After evaluating all entries for the world's top SEO firm, PromotionWorld felt that Medium Blue's recent additions to its Internet marketing programs, package diversity, overall value, customer service, and feedback made it deserving of the number one spot.
This marks the eighth time Medium Blue has been recognized as the best SEO firm on PromotionWorld's monthly list; it also received top spots as the number one search engine optimization company for the year in 2006 and the best organic SEO firm in 2007. Medium Blue continues to offer its clients superior work and significant results that enhance their ROIs. Led by widely recognized industry expert Scott Buresh, whose articles have been published in multiple online and print publications, the SEO firm has amassed a client base that includes DeKalb Medical, Flexa Furniture, Cbeyond, and Adventist Midwest Health System. See the list of top ten SEO firms for August 2009.
"Medium Blue is honored to be recognized as the number one search engine optimization company in the world for August," said Scott Buresh, CEO of Medium Blue Search Engine Marketing. "Our goal is to provide services that encompass every facet of a company's Internet marketing needs and exceed the results they are seeking. This recognition is an indication of how we are consistently achieving that goal." For details on the services offered by the company, please visit MediumBlue.com.
About Medium Blue
Medium Blue Search Engine Marketing, an Atlanta search engine optimization company, services a national client base, including Boston Scientific, Cbeyond, and DeKalb Medical. The company's services include premium search engine optimization, PPC management, visitor conversion, and online public relations. Its experts are recognized industry leaders and have been featured in numerous publications, including ZDNet, WebProNews, MarketingProfs, DarwinMag, SiteProNews, ISEDB.com, and Search Engine Guide, and contributed to The Complete Guide to Google Advertising (Atlantic, 2008) and Building Your Business with Google for Dummies (Wiley, 2004).
###