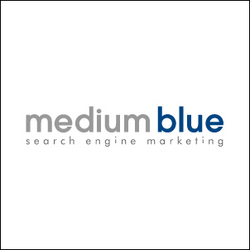 Being named the top search engine optimization firm in the world by a revered and unbiased resource such as PromotionWorld is a tremendous honor for our company
Atlanta, GA (PRWEB) September 21, 2007
Medium Blue Search Engine Marketing, a leading Atlanta search engine optimization company, is pleased to announce that it has been named the number one search engine optimization firm in the world this month in industry resource PromotionWorld's renowned independent study. This marks the sixth time this long-trusted online resource has chosen Medium Blue for this esteemed ranking.
Medium Blue's ethical, 'best practices' approach to SEO empowers the award-winning search engine optimization company to garner top positions for its clients on the major search engines, thus leading more targeted sales prospects to their websites. The resulting increase in sales from successful SEO campaigns does not go unrecognized - in response to the success of its ongoing campaign, long-time client Panel Systems Unlimited recently recognized the search engine optimization firm as its 2007 National Vendor of the Year.
"Being named the top search engine optimization firm in the world by a revered and unbiased resource such as PromotionWorld is a tremendous honor for our company," said Scott Buresh, CEO of Medium Blue Search Engine Marketing. "Our clients recognize that our approach to both SEO and customer service puts their needs first--and I believe that is what ultimately sets Medium Blue apart from our competitors."
In addition to running effective SEO campaigns with current clients such as DS Waters and Wake Forest University Baptist Medical Center, the search engine marketing firm also uses its industry expertise to educate the general public on search engine optimization. Medium Blue recently released a whitepaper to teach marketers how to work search into a company's marketing mix. This in-depth report educates readers on how to get buy-in within the company, leverage company assets, and prepare for challenges before implementing search marketing tactics. The whitepaper is available for download at http://www.mediumblue.com/free-whitepaper.php.
PromotionWorld is the premier news and information source for the search engine marketing industry. Medium Blue earned the number one spot in PromotionWorld's monthly top 10 search engine optimization firm list, which aims to list the best companies in the search engine marketing industry. Each search engine optimization company that is chosen for inclusion by PromotionWorld is selected based on criteria such as offered services, package diversity, value, customer service, feedback, and website popularity. Medium Blue has been featured on this list as a top search engine optimization company for 20 consecutive months.
PromotionWorld's list of top 10 SEO firms can be viewed at http://www.promotionworld.com/200709top10SEOcompany.html.
About Medium Blue
Medium Blue Search Engine Marketing, an Atlanta search engine optimization company, has been featured repeatedly in respected publications such as Entrepreneur, BtoB, and Success Magazine as a leader in the up-and-coming search engine marketing industry. Medium Blue's services include premium search engine optimization, website conversion, and online public relations. The company's experts in these areas are recognized industry leaders and have been featured in numerous publications, including ZDNet, WebProNews, MarketingProfs, DarwinMag, SiteProNews, SEO Today, ISEDB.com, and Search Engine Guide, and contributed to Building Your Business with Google for Dummies (Wiley, 2004). Medium Blue services a national client base, including Boston Scientific, DS Waters, and Inviro Medical Devices. For more information about search engine optimization, visit http://www.mediumblue.com or contact us at 866-436-BLUE (2583).
###