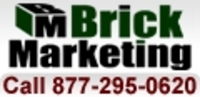 We are pleased to offer new SEO solutions that achieve rankings without overcharging clients. Also, we pride ourselves by doing only quality, white hat SEO work in the United States
Boston, MA (PRWEB) March 18, 2008
Brick Marketing, a respected search engine optimization firm with over a decade of experience helping clients achieve success through one way link building and other website marketing solutions, is very pleased to announce the re-launch of their search engine optimization (SEO) solutions packages. These SEO packages are intended to help small, mid-size, and large businesses, as well as reseller partners, become more successful by increasing qualified traffic to their websites.
As part of their continuing website marketing support for businesses of all sizes, Brick Marketing has re-launched their SEO packages to make them more affordable, flexible, and customizable to suit the unique needs of every business.
Each SEO package includes:

SEO Strategy Development – SEO methods customized to achieve the best results for each client.
Keyword Research – Identification of which industry-specific keywords will increase site traffic.
Meta Tag Copywriting – Optimization of meta tags and meta descriptions for each page of the site.
Site Content Recommendations – A review of the site's content and opportunities for improvement.
Link Building Strategy – Enhancement of internal and external site links for better page ranking.
"We are pleased to offer new SEO solutions that achieve rankings without overcharging clients. Also, we pride ourselves by doing only quality, white hat SEO work in the United States," said Brick Marketing President, Nick Stamoulis.
Brick Marketing, President and SEO Expert also stressed that these packages can be customized to include additional services if a client is interested in options beyond those mentioned in the search engine optimization package.
Other search engine optimization firms focus on one or two aspects of website marketing which limits the effectiveness of their services. But Brick Marketing's SEO packages offer a comprehensive approach to Internet marketing which provides enhanced ranking opportunities, greater brand awareness, and synergies between these methods which are critical for the short- and long-term success of the packages. Anyone interested in these SEO packages or any other aspect of website marketing is encouraged to visit Brick Marketing's website at http://www.BrickMarketing.com or call 877-295-0620 for more information.
MEDIA CONTACT:
Nick Stamoulis
781-223-3651
Brick Marketing
nick @ brickmarketing.com
# # #