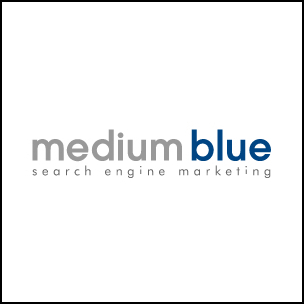 Atlanta, GA (PRWEB) January 30, 2007
Medium Blue Search Engine Marketing , a leading Atlanta search engine optimization company, has been recognized as the number one search engine optimization firm in the world for 2006 by PromotionWorld. Competing against national and international firms, Medium Blue was the only Atlanta-area firm listed in PromotionWorld's top five of 2006.
"After another successful year, we were pleased to be recognized by PromotionWorld for our efforts and to be named as the top SEO firm worldwide in 2006," said Scott Buresh, CEO of Medium Blue Search Engine Marketing. "In 2007, we will continue to attain for our clients the outstanding results that they have come to expect from us, and we look forward to increased growth and to the new advancements we will make in our search engine marketing programs."
Among its many accomplishments in 2006, Medium Blue enhanced its search engine marketing services early in the year to offer clients free copywriting and implementation, which are both handled in-house by its staff of experts. In November, Medium Blue was named one of the best places to work in Georgia by Georgia Trend magazine. "Happy employees lead directly to happy clients," notes Buresh. In addition, the search engine optimization company added several high-profile clients to its roster, including DS Waters, distributor of Crystal Springs and Hinckley Springs waters, and Wake Forest University Baptist Medical Center, and began a partnership with the Technology Association of Georgia that will continue in 2007.
"This is the first time we have awarded any SEO company the honor of being the best of the year," said Darren Tabor, CEO of DevStart, PromotionWorld's parent company. "We felt that Medium Blue's success in 2006, based on its commitment to customer service, its superior results, and its effectiveness in its field, all combined to lead us to make our decision to rank it above all other search engine marketing firms." According to the PromotionWorld listing, Medium Blue is "committed to excellence in all its activities," and the firm has "made a claim to remain among the top search engine optimization companies in the time to come."
PromotionWorld's Best of the Year awards can be viewed at http://www.promotionworld.com/top10award/top10year_seocompany.html.
Medium Blue Search Engine Marketing, an Atlanta search engine optimization company, was recently named the number one search engine optimization firm in the world by respected industry resource PromotionWorld. Medium Blue's services include premium search engine optimization, visitor conversion, and online public relations. The company's experts in these areas are recognized industry leaders and have been featured in numerous publications, including ZDNet, WebProNews, MarketingProfs, DarwinMag, SiteProNews, SEO Today, ISEDB.com, and Search Engine Guide, and contributed to Building Your Business with Google for Dummies (Wiley, 2004). Medium Blue services a national client base, including Boston Scientific, DS Waters, and Windsor Communities. Visit MediumBlue.com to request a custom SEO guarantee based on your goals and your data.
###