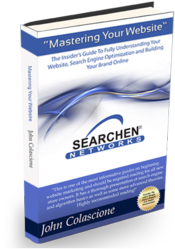 When you're finished reading this book, you'll think differently about your website from what you've learned.
(NEW YORK, N.Y. (PRWEB) June 29, 2012
President and Chief Executive Officer John Colascione of Searchen Networks®, a Search Engine Marketing firm based in West Babylon, New York, has released "Mastering Your Website: The Insider's Guide To Fully Understanding Your Website, Search Engine Optimization and Building Your Brand (Volume 1) (Paperback). Mastering Your Website covers all aspects of owning and operating a web site from a business owners perspective. It's a book about the Internet, web sites, and explains not just what to do, but why you're doing it.
"This book was written with the intention that regardless of your experience level and knowledge, regardless of how long you may have been building, marketing and/or maintaining web sites, the book cannot be read, by even the savviest of marketers, without something to take away from the material. And that's for the highly experienced marketers or developers. When you're finished reading this book, you'll think differently about your website from what you've learned." said John Colascione.
Product Info:

Paperback: 214 pages
Publisher: Searchen Networks Inc., (April 16, 2012)
Language: English
ISBN-10: 1475155662
ISBN-13: 978-1475155662
Product Dimensions: 8.9 x 6 x 0.6 inches
Shipping Weight: 11.2 ounces
Topics Covered:
Domain Names
Web Hosting
Running a Web Site
Understanding Search Engines
Search Engine Submissions
Google Reconsideration Requests
Search Engine Optimization
Google's PageRank™
Link Popularity
Meta Tags
Search Engine Algorithms
JavaScript
W3C Validation
Social Media
Website Strategies
Pay Per Click (PPC) Advertising
Reputation Management
Content Marketing
Semantic Search
Website Monetization
Traffic and Statistics
Local Search / Google Maps
Included in the book are Patent Interpretations for Google's "Document Scoring Based on Document Content Update" (A system may determine a measure of how a content of a document changes over time, generate a score for the document based, at least in part, on the measure of how the content of the document changes over time, and rank the document with regard to at least one other document based, at least in part, on the score.) and "Method for node ranking in a linked database" (A method assigns importance ranks to nodes in a linked database, such as any database of documents containing citations, the world wide web or any other hypermedia database. The rank assigned to a document is calculated from the ranks of documents citing it. In addition, the rank of a document is calculated from a constant representing the probability that a browser through the database will randomly jump to the document. The method is particularly useful in enhancing the performance of search engine results for hypermedia databases, such as the world wide web, whose documents have a large variation in quality.). [Pages 119 – 198]
The book is available in paperback at various retailers like:
The book is also available in digital form on kindle: http://www.amazon.com/Mastering-Your-Website-ebook/dp/B007XHJ39C/
About The Author: John Colascione
Qualifications: Ten (10+) years of web site management and marketing experience in the Internet industries involving web site development, management, online advertising, online marketing, search engine optimization, social media marketing, consulting, server administration, brand development, content relevant advertising, and database administration.
For more information on this book please visit http://www.website-marketing.org
To schedule media interviews with Mr. Colascione or to find out about special bulk rates for book sellers please contact 1 (631) 587-7050, Extension 705 or you can email the publishers at bookinfo(at)masteringyourwebsite(dot)com.