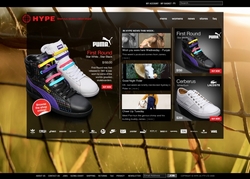 We're very excited about this partnership and see a lot of opportunity in this collaboration
Sydney, Australia (PRWEB) October 29, 2009
Following a competitive pitch, Hype DC has appointed Switched On Media as its SEO partner to develop its online search strategy. It is part of the leading footwear retailer's plan to significantly expand its re-launched sneakers website and extend the brand beyond its 30 retail stores.
"We're very excited about this partnership and see a lot of opportunity in this collaboration," says Andy Jamieson, Director at Switched On Media.
Switched On Media have been tasked with making search the main traffic driver to the Hype DC website with an ultimate objective of increasing sneaker sales and brand visibility, as well as consolidating the brand as the leading fashion sneaker retailer, in store and online.
The new Hype DC website was launched in April this year with new features, including the ability to view the latest styles available in store and to make purchases online. Hype DC, already Australia's leading fashion sneaker retailer, has been looking to expand its fan base across the country and believes that having a strong online search strategy is the way to continue developing the brand.
Adam Milgrom, of Hype DC, says: "Hype DC have chosen Switched on Media as our Search Engine Optimisation partner because of their professional approach and reputation for providing solid results and ROI."
The new online portal will allow Hype DC to reach its youth centred audience beyond the geographical scope of its retail outlets. The company has 30 stores established across the capital cities of Sydney, Melbourne, Brisbane and Adelaide.
Alex Asigno, Head of Search at Switched On Media, says: "We will ensure that Hype DC will continue to cement its status online as one of Australia's leading sneaker retailers."
Switched On Media will track performance, analyse customer journeys and execute strategies to identify the most relevant keywords, ad copy and landing pages for consumers through all stages of the buying cycle.
Other recent Switched On Media wins include Cochlear & Thomson Reuters.
For more information or to arrange an interview, contact:
Adam Milgrom
Hype DC Pty Ltd
web & marketing
Alex Asigno
Switched on Media Pty Ltd
Head of Search
About Hype DC
Hype DC is Australia's leading fashion footwear retailer. In 1998 the first Hype DC store opened, in Mosman, NSW - revealing a new concept in sneaker and footwear retailing. Hype DC has since sold over 1 million pairs of shoes, and there are almost 30 stores spread across New South Wales, Victoria, Queensland and South Australia and online at http://www.hypedc.com
About Switched On Media
Switched on Media is a leading digital marketing agency combining Search and Social media enabling brands to engage with consumers and deliver ROI. Switched on Media has proven expertise in the automotive, financial, retail and travel sectors, working with world renowned brands such Canon, PayPal and Westfield. Employing a team of industry experts enables Switched on Media to deliver deep levels of expertise, service and results across search engine optimisation, social media and pay per click marketing. http://www.switchedonmedia.com.au
# # #