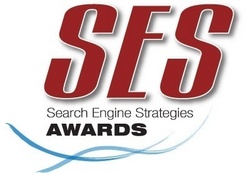 The new Search Engine Strategy Awards offer an excellent opportunity to recognize the best among our peers and to continually raise the bar on accomplishments in this challenging, ever-changing marketing practice
SAN JOSE, Calif. (PRWEB) August 5, 2008
Search Engine Strategies is hosting its first annual SES Awards at SES San Jose in conjunction with its 10th anniversary. Since 1999, Search Engine Strategies (SES) has been the leading international conference series for webmasters, digital agencies, online marketers and corporate decision makers. Over the years, SES has guided search engine marketers of all skill levels through the fast-changing and complex world of search -- the single fastest growing marketing sector.
The SES Awards are designed to inspire innovation and new ideas in this fast-growing marketing sector. The finalists for SES Awards in the following categories are:
Best Search Engine Ad Platform: Call Genie's CG Advantage; LookSmart AdCenter; and SendTec SearchFactz. Search Engine with Most Relevant Search Results: Expert System's Cogito Focus (Shift Communications); Local.com (Madison Alexander); and Yahoo! Most Innovative New Search Engine: YellowBot (Young & Associates); and Expert System's Cogito Focus (Shift Communications). Technology Platform Search Marketers Can't Live Without: Enquisite (Maven.com); Covario, Inc. (JHG Townsend); and Kenshoo Search SEM Platform (Kenshoo Ltd). Best SEM Technology Platform for SMBs: LocalLaunch; Enquisite (Maven.com); and Marchex. Most Innovative Use of Search Engine Optimization: NikeStore (Range Online Media); DoubleClick Performics; and Where 2 Get It Search Locator. Most Innovative Paid Search Campaign: SearchAdNetwork; Building Blocks for LEGO's Paid Search Media (iCrossing); and Four Seasons Hotels and Resort (Acronym Media). Best Social Media Marketing Campaign: Alberto-Culver Nexxus (iProspect); Harlequin Romance Report (SEO-PR); and Beaches of South Walton (USDM.net). Best Business-to-Business Search Marketing Campaign: Microsoft Small Business Center (iProspect); MarketingSherpa (SEO-PR); and Enquiro Search Solutions, Inc. Best Multi-National Search Marketing Campaign: WebCertain; iCrossing Integrates Global Search Campaign for iCrossing; and SAP (Acronym Media). Best Use of Local Search: The Container Store (Range Online Media); Storage West Self Storage (Young & Associates); and US Small Business Administration Business Gateway Initiative. Best Integration of Search with Other Media: Hostage: The Jill Carroll Story (SEO-PR); The Tudors/Showtime (Outrider); and Jaguar XF Oscars (MEC Interaction). Most Effective Use of Web Analytics: World Travel Holdings CruisesOnly.com (iProspect); iCrossing Measures Results with Mazda Analytics (iCrossing); and Four Seasons Hotels and Resorts (Acronym Media). Best Web Analytics Platform: Omniture; and Coremetrics (Lewis PR). Most Advertiser-Friendly Search Engine: Call Genie Interact Voice with Open Location, Open Mobile and Priority Placement; 7Search.com; and Matchpoint.com. The finalists in the 15 categories listed above will be judged by a panel of industry experts and the SES Awards editorial staff, and the winners chosen based on innovation in methodology and execution, achieving success goals, excellence in tactical execution, and overall approach and category relevance. In addition, the SES Awards editorial staff will exclusively select The Editor's Choice award winner.
"The new Search Engine Strategy Awards offer an excellent opportunity to recognize the best among our peers and to continually raise the bar on accomplishments in this challenging, ever-changing marketing practice," said Kevin Ryan, Vice President, Global Content Director, Search Engine Strategies and SearchEngineWatch.com.
To register for the Search Engine Strategies 2008 Conference & Expo in San Jose, visit http://SearchEngineStrategies.com/sanjose/event.html. For more information about SES San Jose and other SES conferences, visit http://searchenginestrategies.com.
About Incisive Interactive Marketing LLC -- A Division of Incisive Media PLC
Incisive Media PLC is a specialist business information provider, based in the UK with offices in North America, Hong Kong, India and Mainland China. The company's activities are currently built around ten core industry sectors - mortgages; marketing services; financial technology; retail investment; capital markets; risk management; insurance; legal services; private equity and photography. Information is provided via a wide range of channels--in print, in person and online. Funds advised by Apax Partners, a leading global private equity group, recently completed the successful de-listing of Incisive Media from the London Stock Exchange alongside the existing management.
Incisive Interactive Marketing LLC is the marketing services division of the company and incorporates leading websites Search Engine Watch, the ClickZ Network and their associated events series including Search Engine Strategies. These properties were acquired in 2005.