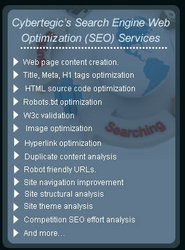 City of Industry, CA (Vocus) October 21, 2010
Cybertegic, Inc, an internet marketing and search engine optimization agency, stays true to its commitment of providing clients an online edge online as it leads three more clients to the top of Google and Yahoo search engine results.
From August to September, leading computer cable manufacturer PIMFG.com was listed in top 10 search results for 18 keywords. Furthermore, it is number one for the keywords "manufacturing network cables" and manufacturing HDMI cables."
Women's clothing and shoes retailer MakeMeChic.com also benefited from its partnership with Cybertegic as the company's search engine optimization services brought MakeMeChic.com to the top 10 search results for keywords such as "affordable shoes," "women fashion boots," "cheap trendy clothes," "trendy shoes," "clothes and shoes online," "fashion boots," "affordable knee high boots," and "knee high boots online."
Aftermarket automotives parts manufacturer CarPart4U.com also reached top 10 for eight keywords, including "car crystal projector headlights," "car crystal projector," "Toyota Corolla e12u," "performance headlights," "affordable car headlights," and "clear crystal headlights."
Last month, Cybertegic's top-notch search engine optimization services also brought leading LED signs and open signs manufacturer AffordableLED.com and authorized Patek Philippe dealer Chong Hing Jewelers to the top 10 search results of Google.
Aside from providing reliable search engine optimization services to online businesses, Cybertegic also provides other Internet Marketing services such as website design, e-commerce, and business consulting, among others. The company is committed to learning, discovering and mastering search engine optimization techniques to keep clients ahead of the pack. Find out more by visiting Cybertegic's website.
About Cybertegic, Inc.
Headquartered in City of Industry, CA, Cybertegic, Inc. is an e-commerce development company that specializes in advanced internet marketing services and in the development of complex e-commerce stores. The company specializes in all aspects of internet marketing, such as search engine optimization (SEO) services, pay per click advertising services, and e-mail campaign services.
###