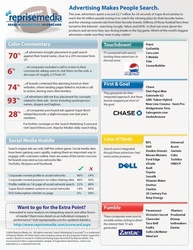 In an increasingly fragmented media world, the Super Bowl represents the last of the true mass-marketing opportunities available to advertisers
NEW YORK (PRWEB) February 4, 2008
Reprise Media released its 4th annual Search Marketing Scorecard (SMS), which ranks Super Bowl advertisers based on the level of integration between their television commercials and presence in search and social media - essentially measuring how prepared each brand is to capture online interest and buzz. The Search Marketing Scorecard is the longest-standing study of its kind.
Among this year's key findings:
Touchdown!
-- Pepsi is this year's most valuable player. A surprising rebound from its performance in our 2005 inaugural SMS, where it finished at the bottom of the pile.
-- Once again, web-based direct marketers - such as CareerBuilder.com and GoDaddy.com - are doing well with search and social media. Both companies have consistently scored touchdowns every year on our SMS.
-- Cars.com, T-Mobile and Tide rounded out this year's winner's circle with the best integration of Super Bowl TV commercials and search and social media.
Fumble!
-- Disney, Zantac and Hershey's miss their opportunities for cross-channel integration, with nearly no connection between game-day ads and their online presence.
-- The entertainment industry continues to under-perform. Overall, while movie studios are generating buzz with their 30-second spots, the majority are still missing the boat. With the exception of New Line Studio's Semi-Pro, which scored high for both search and social media presence, most studios are not buying search ads for their films, and none are using Super Bowl-specific keywords or copy to capture the attention of Giants and Patriot fans.
Interception
-- Edmunds.com didn't advertise in the big game, but did the next best thing - bought paid search ads that got them in front of the Super Bowl's massive audience when they headed online for more information.
Other observations
-- Though Pepsi clearly led the pack in this year's SMS, the majority of non-alcoholic beverage advertisers consistently fail to include a URL or call to action in their TV spot.
-- Only 6% of the Super Bowl advertisers gave a call to action in their commercials. Less than 10% have worked the mascot, celebrity or tagline into their paid search terms.
-- None of the Super Bowl ads pointed to their social media presence on MySpace, YouTube or Facebook. Less than one-fifth showed Super Bowl-related content on social networks.
-- 70% of advertisers were buying placement in paid search against their brand name, close to a 20% increase over last year.
-- Advertisers are getting better at including the relevant URL in their ads (with 84% displaying a URL in their commercials) and 100% of them led to the right landing page.
"In an increasingly fragmented media world, the Super Bowl represents the last of the true mass-marketing opportunities available to advertisers," said Peter Hershberg, Managing Partner of Reprise Media. "As we've seen throughout the past four years of our study, the buzz created by an audience that large can cause huge spikes in online behavior. Marketers that overlook search and social media are potentially missing out on a huge opportunity to engage with interested consumers during the game."
Through a partnership with Compete, a leading web analytics company, Reprise Media will analyze data on user behavior and online traffic trends surrounding Super Bowl Sunday. Additionally, the company will release a whitepaper reviewing the results of this analysis at the Online Marketing Summit (http://www.onlinemarketingsummit.com) on February 21st in San Diego.
To download the 2008 Super Bowl Search Marketing Scorecard, visit http://www.reprisemedia.com/scorecard.aspx
About Compete, Inc.
Compete helps the world's top brands improve their marketing based on the online behavior of millions of consumers. Leading marketers such as Carlson Hotels Worldwide, Hyundai Motor America, Upromise, Chrysler, and Verizon Wireless rely on Compete's services to create effective online experiences and highly profitable advertising campaigns. Compete's online behavior database - the largest in the industry - makes the web as engrained in marketing as it is in people's lives.
Compete was founded in 2000 and is located in Boston, MA, with offices throughout the U.S. For more information about us, please visit http://www.competeinc.com, or to join the conversation visit compete.com.
About Reprise Media
Reprise Media offers clients a complete managed solution for their search and social media marketing needs, focused exclusively on improving their return on advertising investment. The Company delivers services and technology that enable advertisers to manage and optimize their customer acquisition programs through search, social, auction-based and category targeted digital media.
The company was named "2006 Agency of the Year: Best Search" by OMMA Magazine, and has been ranked among the 30 fastest growing companies in the country by Entrepreneur Magazine's Hot 100 for the past two years.
Reprise Media is headquartered in New York City, with offices in San Francisco and Boston. SearchViews (http://www.searchviews.com), the Company's award-winning blog, provides daily news and commentary on the Search Engine Marketing industry.
NOTE: Today (February 4) at 1 p.m. ET/10 a.m. PT, Reprise Media will present a live, post-game analysis of the results from the 4th Annual Super Bowl Search Marketing Scorecard via webinar. Visit https://www1.gotomeeting.com/register/253608377 to register for the event (dial-in: 641-715-3222/access code 289-777-314).
Reprise Media and Search Marketing Scorecard are registered trademarks of Reprise Media Inc. All other product and brand names are the property of their respective owners.