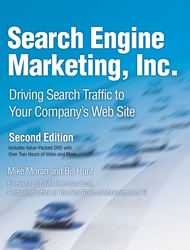 With new content, examples, and insight including social media and Web site search, this is a must read book for marketers at companies of all sizes from start-ups to the Fortune 100.
NEW YORK (PRWEB) October 2, 2008
Search Engine Marketing, Inc.: Driving Search Traffic to Your Company's Web Site, first published in 2005, has since earned widespread praise, from both marketers and technical professionals alike, for its clear instruction and logical step-by-step approach to search marketing success. Knowledge, hard work, and execution-- rather than quick fixes-- represent the critical mix for sustained success, and Mike and Bill lead readers from start to finish.
The much anticipated new edition has been thoroughly updated, and includes a section to help marketers understand the increasing popularity of social media and how it relates to search. Search Engine Marketing, Inc. is bundled with a DVD including more than two hours of video presentations.
Part I of the new edition, "The Basics of Search Marketing," covers how search engines work, how search marketing works – both organic search and paid placement – and closes with a look at the behavior of searchers themselves. Market share changes, name changes, and other transformations in the search business are reflected throughout.
In Part II, "Develop Your Search Marketing Program," the authors help readers identify their own web site's goals, track its progress, and define a formal search marketing strategy. Readers also learn how to create winning proposals that can be embraced throughout an organization, and how changes in free keyword tools can help streamline the planning process.
Part III, "Execute Your Search Marketing Program," helps readers determine if their sites are properly indexed (and what to do if they're not), choose keywords, optimize content for search landing pages, understand the strategic placement of inbound and outbound links, and understand the growth and importance of paid search programs.
Search Engine Marketing, Inc. concludes with a new "Beyond" section, to help readers understand the impact on search marketing from multimedia content, including content created directly by customers via blogs, and Web 2.0 capabilities such as Facebook and Twitter. The authors also help readers use their new skills to improve search engines within their own sites.
"The impact of social media has exploded since 2005 when we wrote the first edition, and bringing search strategy into Web 2.0 marketing activities can reap significant benefits," Moran said.
Coinciding with the book's publication, the authors were interviewed by fellow search expert Heather Lloyd-Martin (author of Successful Search Engine Copywriting) for a 4-part podcast series. The first podcast is on search marketing basics, the second on changes since the first edition, the third on social media marketing, and the last on Web site search.
In Part 3, Mike and Bill team with noted author David Meerman Scott (author of The New Rules of Marketing & PR). Visit http://www.ibmpressbooks.com/marketing for the entire series.
Author Bios
Mike Moran, former Distinguished Engineer for IBM, has 20+ years' experience in search technology and holds four search patents. He led the original search engine marketing strategy for ibm.com, managed the site's site search technologies, and spearheaded IBM projects in content management, personalization, and metrics. In 2008, Mike retired from IBM to pursue speaking, writing, and consulting, including serving as Chief Strategist for the digital communications agency Converseon. He is a charter member of the Direct Marketing Association's Internet Marketing Advisory Board and a member of its Search Engine Marketing Council. He has spoken at events ranging from Search Engine Strategies to the Enterprise Search Summit. He is also author of the book, Do It Wrong Quickly: How the Web Changes the Old Marketing Rules (IBM Press, September, 2007) Visit http://www.mikemoran.com for more information including a daily blog.
Bill Hunt has been a pioneer in search marketing and is considered the leading thought leader on enterprise and global search engine marketing. Bill is CEO of Global Strategies International (GSI), a company that specializes in helping Fortune 500 companies develop, implement, and manage global enterprise search engine marketing programs. He is an internationally recognized global marketing expert who has spoken at conferences in over 30 countries. He is currently on the board of directors of the Search Engine Marketing Professional Organization (SEMPO) and has also been named by BtoB Magazine as one of the Top 100 Marketers. Visit http://enterprisesem.com/ for more information.
Early Praise:
"With Search Engine Marketing, Inc., Bill Hunt and Mike Moran have successfully updated what is already known in the industry as "The Search Marketing Bible." With new content, examples, and insight including social media and Web site search, this is a must read book for marketers at companies of all sizes from start-ups to the Fortune 100."- Lee Odden, CEO of TopRank Online Marketing and Author of Online Marketing Blog
"Search is the opportunity of our time because of its ability to match up your online presence with relevant customers. It is big, it is small, it is simple, it is complex, but most of all it is deeply monetizable- if done right. That last part is where Search Engine Marketing, Inc. comes in. Mike and Bill have done a fantastic job of updating their bestseller. Any organization that wants to get search needs to get this book."- Avinash Kaushik, author of Web Analytics: An Hour A Day
Search Engine Marketing, Inc. is the newest addition to IBM Press™, a publishing partnership between IBM Corp. and Pearson Education, and the official publisher of IBM books for professionals and students.
The book is also available to Safari Books Online subscribers: http://safari.informit.com/9780137005123
Search Engine Marketing, Inc., 2nd Edition
October, 2008
IBM Press
627 pages
U.S. $49.99
ISBN-13: 978-0-13-6068686
About Pearson Education
The global leader in educational and professional publishing, Pearson Education is home to such respected brands as Addison-Wesley Professional, Cisco Press, Exam Cram, IBM Press, Prentice Hall Professional, Que, and Sams Publishing, which have as their online publishing arm InformIT (http://www.informit.com) -The Trusted Technology Learning Source. In addition, Berkeley-based Peachpit (http://www.peachpit.com), the publishing partner for Adobe Press, Apple Certified, and others, publishes best-selling books for creative design professionals. Pearson is also co-founder, with O'Reilly Media Inc., of Safari Books Online (http://safari.informit.com), the premier on-demand technology content library providing thousands of expert reference materials through a single point of contact, including expert technology, creative and design, industry and management resources in video, audio and written formats. Pearson Education is part of Pearson (NYSE: PSO), the international media company. Pearson's other primary businesses include the Financial Times Group and the Penguin Group.
IBM Press is a trademark of International Business Machines Corporation.