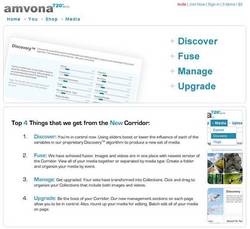 We are very excited about our proprietary innovation
Mansfield, MA (PRWEB) September 6, 2007
Today, Amvona.com® unveils DiscoveryTM, a revolutionary patented media search engine with which users can control twelve variables to fine-tune their search results. The fine-tuning is controlled by sliders which allow users to boost or lower the influence of important variables such as popularity, views, category, and member location giving users complete control of their results.
The DiscoveryTM media search engine enhances Amvona.com's free photo sharing application, the Corridor™, with several next-generation upgrades were also as part of this release. For example, members can now organize their Corridors™ by clicking and dragging thumbnails into collections.
"We are very excited about our proprietary innovation," said Greg Lemelson, Amvona.com® 720° founder and CEO. "This is one of many new features coming through the pipeline, and I urge everyone to take the new DiscoveryTM search engine for a test drive."
Amvona.com offers professional grade photographic accessories at affordable prices everyday delivering the fastest, easiest, and most enjoyable shopping experience possible. Amvona.com continues to excel in innovating and upgrading the social shopping experience for their growing online community.
For more information about Amvona visit http://www.amvona.com , call (866) 283-6591.
Send written inquiries to:
amvona.com
15 Berkshire Road
Mansfield, MA 02048
Media Contact Information:
Shin Ueno
Phone: 508-618-0049
http://www.amvona.com
Laura Durniok
Phone: 508-618-0041
###