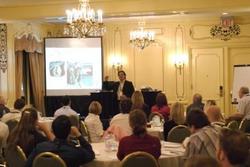 You can count me in for the next Summit in Los Angeles!
San Francisco, CA (PRWEB) July 2, 2008
More than 100 Internet Marketers, Advertisers and Business Professionals gathered recently for Pay Per Click Summit in San Francisco, where industry experts from Microsoft, Google and more shared insider secrets for improving online advertising results. Attendees walked away with insider information, strategies, tools, manuals and case studies to integrate into their marketing programs. Attendees had the opportunity to meet and discuss with industry experts how to better position their products/services and increase their search engine marketing results.
PPC Summit CEO Mary O'Brien, former Yahoo! Search Marketing Director, was joined by Keynote speaker Jorie Waterman, Microsoft AdCenter Product Manager, and other industry gurus who shared proven strategies to increase online market share. During the two full days of training, expert trainers presented on these topics: search marketing, bid management, keyword targeting, B2B and B2C advertising, click fraud, landing page and website optimization, Google Adwords tools and other hot topics. For more information about these sessions or other industry trends, take advantage of the Internet Marketing tips covered in the PPC Summit Secrets Revealed email newsletter. Sign up information can be found at http://www.ppcsummit.com/overview.html?PRW10.
PPC Summit has received positive feedback from many San Francisco attendees who have already implemented strategies resulting in higher sales and return on investment. "My sales are up 350% and cost per sale is down 48.3% after incorporating the expert Pay Per Click and Search Marketing strategies I learned," raved David Wagoner, a San Francisco attendee. "You can count me in for the next Summit in Los Angeles!" says Wagoner.
PPC Summit thanks those industry leaders who sponsored the event: Microsoft, Google, Business.com, Context Web, Engine Ready, Lyris HQ, BidHero, Saturn and Lutze Consulting. PPC Summit has opened registration for the next workshop coming to Los Angeles, September 25-26, held at the Omni Hotel where Microsoft and Google are set to speak. The PPC Summit expert trainers offer the latest industry technologies and strategies which draw many repeat attendees who want to stay abreast on industry information and maintain a competitive advantage.
Registration space is limited to ensure optimal training and provide ample time for attendees to network with the industry experts. All interested participants should register online before the early bird date to save $200. For more information, please go to http://www.ppcsummit.com/overview.html?PRW10.
Contact:
Kelly Larsen
Marketing Manager
PPC Summit
(360) 554-9683 ext. 707
press @ ppcsummit.com
###